Rumor: Bono And The Edge Writing Music For Pixar's 'Brave'?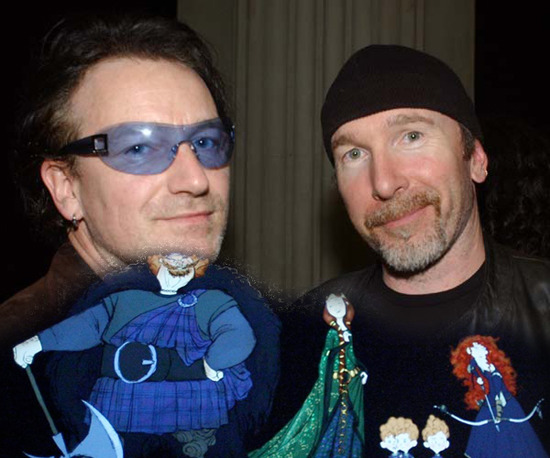 Grand speculation time: The Pixar Blog has put together some tweeted info and discussions with undisclosed sources to come up with the theory that Bono and perhaps The Edge are writing a song or music of some sort for Brave, the in development Pixar film that was formerly titled The Bear and the Bow.
The thread seems pretty thin, based on a visit Bono paid to Pixar and some other conversations that TPB isn't disclosing. Not the biggest stretch to think this might happen, and it would probably be a step up from Bono and The Edge working on the Spider-Man: Turn Off the Dark musical. But it also seems slightly out of character for Pixar. (And, personally, I can't decide which I'd like less: new music from this duo or from Randy Newman. Can't say I'm much a fan of either.)
Brave will see release in Summer 2012, and below is some of the info we've previously collected on the story:
Brave is Pixar's first fairy tale, from acclaimed filmmaker/writer Brenda Chapman (The Prince of Egypt). Chapman began as an additional animation artist on Who Framed Roger Rabbit and contributed story for The Little Mermaid, The Rescuers Down Under, Beauty and the Beast, The Lion King, The Hunchback of Notre Dame, Fantasia 2000, Chicken Run and Cars.
A rugged and mythic Scotland is the setting for the film, which stars Reese Witherspoon as the "impetuous, tangle-haired Merida, though a daughter of royalty, would prefer to make her mark as a great archer. A clash of wills with her mother compels Merida to make a reckless choice, which unleashes unintended peril on her father's kingdom and her mother's life. Merida struggles with the unpredictable forces of nature, magic and a dark, ancient curse to set things right. Director Brenda Chapman and the storytelling wizards of Pixar conjure humor, fantasy and excitement in this rich Highland tale."