Carl Erik Rinsch's The Gift Wins Cannes Lions Advertising Awards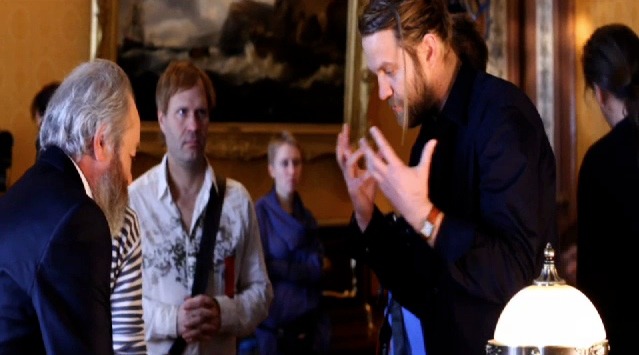 In April, Philips released their collaboration between five filmmakers from Ridley Scott Associates, called Parallel Lines. Scott's commercial division RSA was asked to create a series of short films in a genre of their choice, using "the same unifying theme." RSA directors submitted forty-five treatments and Philips selected five it believed were most ground-breaking: Jake Scott, Greg Fay, Johnny Hardstaff, Carl Erik Rinsch, and Hi-Sim.
Carl Erik Rinsch's futuristic action thriller short film The Gift was the leader of the pack, spawning a bidding war between several big Hollywood movie studios to turn the short film into a feature. We even broke more information about the project, titled Small, and posted some leaked concept renderings. News broke over the weekend that Rinsch's The Gift has won the inaugural Gold Film Craft Lion at the Cannes Lions International Advertising Festival in Cannes.
Parallel Lines also received a Grand Prix for Direction, marking the second consecutive year a Philips campaign has received the jury's highest accolade, and the first back-to-back awarding of a Lions Grand Prix to a brand.
Read the full press release after the jump.
Rinsch was originally tapped to direct a prequel/remake of Alien, but Fox convinced/pushed Ridley Scott to helm the project himself. Rinsch's commercials show an amazing sense of imagination, visual effects artistry and composition (watch them now). Rinsch is developing a remake of Creature From The Black Lagoon and is in preproduction on an epic period samurai film titled 47 Ronin to star Keanu Reeves, also for Universal. 20th Century Fox considered the filmmaker for the Bryan Singer-produced X-Men Origins: First Class, but Carl ultimately lost out to Kick-Ass director Matthew Vaughn. It was recently announced he will direct a remake of Logan's Run for Warner Bros. You can watch a making of featurette on The Gift by clicking here.
Here is the press release:
PHILIPS SCOOPS ANOTHER GRAND PRIX AT THE CANNES LIONS ADVERTISING AWARDS
Amsterdam, The Netherlands – Today, Philips is delighted to announce that its global Parallel Lines campaign for Philips TVs has received the inaugural Gold Film Craft Lion at the Cannes Lions International Advertising Festival in Cannes. Parallel Lines also received a Grand Prix for Direction, marking the second consecutive year a Philips campaign has received the jury's highest accolade, and the first back-to-back awarding of a Lions Grand Prix to a brand.
The brand-new Film Craft Lion (Special Effects) was awarded for the short film 'The Gift' by Ridley Scott Associates (RSA) director Carl Erik Rinsch. Rinsch's science fiction thriller was one of five thematically linked short films commissioned and produced by Philips for its global Parallel Lines campaign, which launched in April of this year. The campaign, created in association with DDB UK and Tribal DDB Amsterdam, challenged directors from RSA to respond to a single dialogue to demonstrate that whatever content is watched, only Philips TVs' Ambilight technology, award-winning picture quality and superior sound, can recreate the best cinematic viewing experience at home.
To establish the 'Film Craft' category the jury declared they felt duty bound to recognize something that set the standard for others to follow, and the 'The Gift' was an exceptional example. Rinsch's 'The Gift' and the other four short Parallel Lines films are available to watch online at www.philips.com/cinema.
"To have been awarded a Grand Prix for the second year in a row is a tremendous honor and recognizes the strength of our partnership with our agencies, as well as how Philips has transformed into a marketing power-house in just a few years time," said Gary Raucher, Vice President and Head of Integrated Marketing Communications at Philips. "A few years ago, we wouldn't have been contending at Cannes. Now, Philips campaigns have won a Cannes Lion four years running and have been crowned with two successive Grand Prix awards."
Neil Dawson, Chief Creative Officer, DDB Worldwide added: 'I'm delighted we've won the first Film Craft Grand Prix. Our whole raison d'etre was to demonstrate Philips' credentials in cinematic viewing at home. To prove that we needed to produce content of the highest quality, so this award is extra special for us.'
Kai-Lu Hsiung, Managing Director, Ridley Scott Associates (RSA) said: 'The Parallel Lines brief was exceptional when we received it from DDB, but to now see the fruition of this unique creative process unfold before our eyes, in April when the website went live, to now, receiving this accolade is more than we could hope for. May creativity and clients like Philips flourish as the delivery of brilliant content is surely the future of advertising.'
Last year, the International Advertising Festival at Cannes awarded the top prize, the 2009 Film Grand Prix to Philips and Tribal DDB Worldwide for "Carousel", created for the debut of Philips' Cinema 21:9 television.
About the Parallel Lines films
The Gift – Carl Erik Rinsch
In this sci-fi thriller, Podarok introduces us to a dystopian future. It's a winter's day in Moscow, but the familiar landscape is not all it seems. The traditional backdrop is balanced by the technological hints to the future on show. An experienced KGB Agent is on his way to deliver a special gift. Expressionless and giving the aura of emptiness the lone man makes his way across the city. As the secret of the gift is unveiled to the receiver, the desire for the object becomes evident. The agent must have it. Even at the cost of a man's life. A high-octane chase through Moscow ensues as the dead man's robotic butler tries to rescue the precious gift. It must not be left in the wrong hands.
Carl Erik Rinsch cleverly uses the pacing of this short to evoke and speak out to our emotions. We feel the bleakness of this post apocalyptic future, the gloomy life of an empty man, the desperation of the chased and climatically, hope.
Darkroom – Johnny Hardstaff
Set in a retro future Shanghai, Darkroom opens on a covert surveillance operative as he searches for his criminal quarry. Scanning a polluted city skyline, we see through his technology as he zooms ever deeper into a distant apartment and through the imaginative use of reflections and technology begins to unravel a sinister secret. Through this voyeuristic journey we are led to a climax with dramatic consequences.
Johnny Hardstaff expertly generates intrigue through his development of mood and tension. Namely, with the use of the operative's own hushed voice to provoke a sense of seediness and setting of the tone. As the audience is led deeper we find a fiendish pleasure in this voyeuristic approach. Darkroom proves a clever and absorbing short that packs a very original sting in its tail.
El Secreto de Mateo – Greg Fay
In this heartwarming tale set in the underprivileged tower blocks of South America, a boy shows a young girl to a room with a secret. The girl is introduced to a donkey, which the boy tells her is a unicorn. Delight and fulfilment fills the young girl as she is left to feel the magic of this moment in a life that has offered her so little. This joy is short lived as we are shown the difficulties of growing up as bullies taunt the pair. The boy stands up for his younger friend. Afterwards though, it all seems too much as the brave boy is left to cry quietly in the corner. Unawares to her friend's pain the girl returns her attention to the beauty of the animal.
Greg Fay delicately shows us the hardship of growing up and the joy that can be brought on by a child's imagination. Lighting is used to great effect. The hue and glow of a beaming sun fills scenes with a warmth, comfort and tender security away from the harsh realities of the world. El Secreto de Mateo leaves us emotionally speechless with the feeling of both happiness and sorrow.
The Hunt – Jake Scott
The Hunt follows two men on a trail to find the ultimate prey. In the eerie woodland something lurks; a mystical creature. Soon we will find that the hunters may well become the hunted.
Jake Scott takes us on a slow pursuit, carefully building the tension through a seemingly desolate and hostile environment. Senses are heightened as Jake brings to life every inch of the hunt, every sound carefully designed to put the audience on edge: the crows in the background, the trickle of a stream, the earth moving under each step. As The Hunt nears its horrifying climax we hold our breath as the huntsman sets his sights. However his companion shows a fear and nervousness in his expression. Something is not right. Perhaps the intended prey is not to be provoked.
Jun & the Hidden Skies – Hi-Sim
Through animation Hi-Sim transports us into the playful imagination of siblings Jun and Aco. We are instantly rushed from the children's attic into space as a cardboard box transforms into a spaceship. This fantasy adventure excites as our heroes find themselves in the midst of a space battle resulting in the capture of Aco. Jun is left to fall from the skies before being saved by a fire-breathing dragon. Jun and his new friend blow away the enemy as the plight to save the captive Aco gathers pace.
Hi-Sim manages to bring out a childlike excitement and curiosity from the moment we enter the attic. This beautifully crafted animation bursts with fantastic colors of an imagined world. Visual details have been carefully considered and realism breaks through from the quality of the effects. This is a polished short that is sure to please the whole family.
About the RSA Directors
Carl Erik Rinsch
At just 14 years old, Rinsch had his first film shown at both the New York and Tulleride Film Festivals. Since then he has worked as a photojournalist for Rolling Stone magazine, and now as a director has received accolades including the D&AD/Campaign Screen Award for Best New director. He was fortunate to have been included in the Saatchi & Saatchi New Directors' Showcase at Cannes. Rinsch's work includes visually stunning and memorable commercials for the likes of BMW, Earthlink, Sprite and the SciFi Channel.
Johnny Hardstaff
His most notable works to date remain the politically provocative shorts films, History of Gaming and Future of Gaming, which have now been inducted into the National Film Archive. Hardstaff also famously created the experimental music video Like Spinning Plates for Radiohead, and is responsible for a raft of innovative, contemporary, design based commercials for many leading brands.
Greg Fay
A former associate editor at both iD and The Face magazines, Fay has directed music videos for acts including Lilly Allen, Oasis, and The Streets and worked for commercial clients including Reebok, Orange, British Airways and Yellow Pages. In 2005 he wrote and directed his first short Last Trip to Cardiff on the back of which he was signed (as one half of directing partnership Ben & Greg) to Partizan Films. He joined RSA as a director in his own right in 2008 and has shot numerous commercials for the likes of The Guardian, Asda and Vodafone, amongst others. In February 2010 Greg will shoot a pilot for a BBC Wales comedy series called Dappers.
Jake Scott
Scott gained early directorial prominence with REM's Everybody Hurts, which won multiple MTV awards, a Grammy nomination and was inducted into the MVPA Hall of Fame in 2005. He has also directed videos for U2, No Doubt, Radiohead, Smashing Pumpkins, The Strokes and George Michael, and has two videos in the MTV 100 best videos of all time. In 2003, Scott won an Emmy for Best Commercial, three AICP awards and an Andy for his work on Nike's Move. In 2005, Scott won a Silver Lion awards in Cannes for his work on Adidas in addition to winning two CLiOs for the same brand spot. Scott was nominated for a Grammy for direction of George Michael's Flawless for Best Music Video and received three AICP awards for his work with Nike's Magnet. In 2008, his work on HBO's Voyeur won him a Grand Prix and a Cyber Lion at Cannes, Scott has recently completed his second film, Welcome to the Rileys starring Kristen Stewart and James Gandolfini and Academy Award nominee Melissa Leo, which has just screened at this year's Sundance Film Festival.
Hi-Sim
The pseudonym of directing duo Chris Hawkes and Cheun Hung Tsang, their work consists of live action and computer generated imagery. They were recently featured in Boards magazine as one of the top 20 directors to watch out for. They have directed many commercial projects for brands including Adidas, Stella McCartney, Bacardi and Investec Specialist Bank.
About Royal Philips Electronics
Royal Philips Electronics of the Netherlands (NYSE: PHG, AEX: PHI) is a diversified health and well-being company, focused on improving people's lives through timely innovations. As a world leader in healthcare, lifestyle and lighting, Philips integrates technologies and design into people-centric solutions, based on fundamental customer insights and the brand promise of "sense and simplicity". Headquartered in the Netherlands, Philips employs approximately 116,000 employees in more than 60 countries worldwide. With sales of EUR 23 billion in 2009, the company is a market leader in cardiac care, acute care and home healthcare, energy efficient lighting solutions and new lighting applications, as well as lifestyle products for personal well-being and pleasure with strong leadership positions in flat TV, male shaving and grooming, portable entertainment and oral healthcare. News from Philips is located at www.philips.com/newscenter.