Let The Right One In Director Taps Oldman, Firth, Fassbender And Thewlis For His Next Film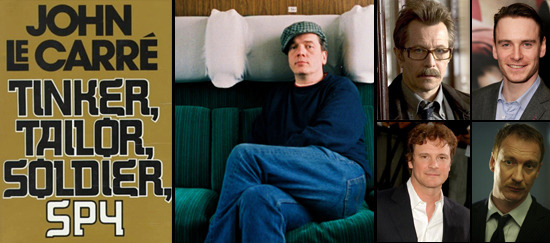 Let the Right One In director Tomas Alfredson was initially slow to lock down a follow-up film. He was a part of The Danish Girl for a while, before walking away. (Lasse Hallström directed instead.) Now Alfredson is making a film called Tinker, Tailor, Soldier, Spy, which is now casting. The one actor definitely set to star at this point is Gary Oldman, but several other great names are negotiating roles as well.Production Weekly (via The Playlist) reports that Colin Firth, Michael Fassbender and David Thewlis are all in talks right now. Those four guys? Holy shit, that could be a hell of a cast.Peter Morgan is writing the script based on John Le Carré's novel (supposedly with the assistance of the author) which is the first in a trilogy that also features novels The Honourable Schoolboy and Smiley's People. The overarching story is a classic tale of Cold War espionage, and when I first reported on this project we didn't know if Alfredson's film would be a period piece or an update. At this point, it looks like a period piece, so that's a mark in the 'plus' column.
The story has retired intelligence agent George Smiley (Gary Oldman) being called back to serve when a high-ranking member of MI6 is suspected of being a Soviet mole. I still hope that Le Carré and Morgan kept the jargon that was used in the novel; Le Carré called MI6 'the circus', black bag ops were 'scalphunters' and American agents were 'the cousins'.
Tinker, Tailor, Solider, Spy has been adapted twice before: by the BBC for television in 1979 with Alec Guinness starring as George Smiley, and then by BBC Radio 4 in 1988. A 1982 BBC mini-series later adapted Smiley's People (again with Guinness), the third book in the trilogy, but the middle chapter has never made it to screen. The shoes of Alec Guinness will be difficult to fill, and I'd initially hoped for someone like Bob Hoskins, but Gary Oldman could easily nail this, too.