Movie Trailer: Jackboots On Whitehall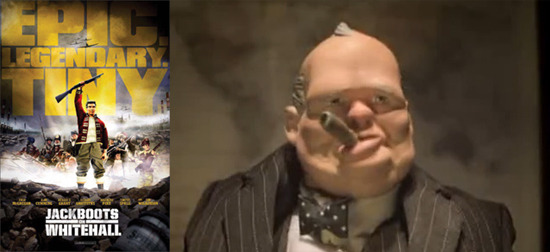 What if Team America: World Police were British, took place during World War II, and was totally serious? Well...more serious. OK, fine, what if Team America was British and set in WWII? You might have something like Jackboots on Whitehall, which tells the story of an alternate WWII in which Goering, Goebbels and Himmler plan to tunnel under the English Channel and into the heart of London in order to capture Britain while the country's army is elsewhere. A small group of villagers represent the last line of defense against the Nazis.
Who says Inglorious Basterds has a lock on revisionist war history?
The voice cast seems to be great: Ewan McGregor leads the pack, with Timothy Spall, Rosamund Pike, Tom Wilkinson, and Dominic West. Who plays Hitler? Alan Cumming! Of course. The trailer looks great; can't wait to see what writer / director / siblings Edward and Rory McHenry have in store in the full feature.
Here's the official synopsis:
From the McHenry Brothers comes a satirical version of World War II in which the Scottish defeat the German invasion of England. Chris (Ewan McGregor) dreams of the chance to join the army and fight in exciting new lands rather than be stuck in the slow paced village life he has grown up in. His chance comes when the three top Nazis hatch a plan to invade England by drilling under the English Channel and into the heart of London. With the entire British army stuck in Dunkirk and no military support to defend the country, Churchill issues a final radio broadcast from his bunker in Downing Street – a cry for help. But can the nation unite in time to make one last stand against the Nazi forces? JACKBOOTS ON WHITEHALL boasts pioneering techniques in animation, fusing innovative puppeteering animatronics developed by Rory McHenry and VFX by MFX London.
And here's the trailer, via Twitch: