Sam Mendes To Direct Charlie And The Chocolate Factory Stage Musical And 'On Chesil Beach' Before Bond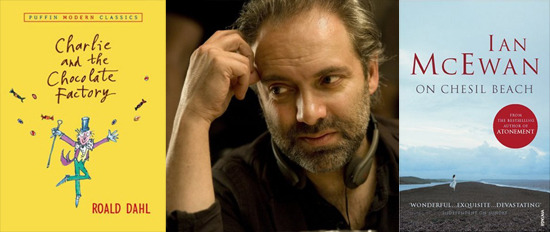 With Bond 23 indefinitely delayed, Sam Mendes has been looking for new projects. For a moment it looked like he might jump on to The Great and Powerful Oz, Disney's new Oz movie that could star Robert Downey, Jr. (Think this year's Alice in Wonderland plus Sherlock Holmes.)
But it looks like Mendes will cede Oz to another director — Adam Shankman or perhaps Timur Bekmambetov — in favor of two other projects to while away the days before Bond can move forward. One is a stage version of Charlie and the Chocolate Factory, and the other is a film called On Chesil Beach, with Carey Mulligan as possible star.
Deadline reports on the projects, saying that Mendes will direct a stage musical based on Roald Dahl's Charlie and the Chocolate Factory, with songs by Marc Shaiman and Scott Wittman with playbook by David Greig. The idea is to premiere in London during the holiday season 2011, then move to Broadway. (Again, reiterating, since I've seen people misreading the news: this is a stage musical, not a movie.)
In the meantime, while Shaiman, Wittman and Greig get their work done and the stage version of the chocolate factory is created, Mendes "will squeeze in a feature."
Deadline's report pegs On Chesil Beach, an adaptation of the novella by Ian McEwan, as his choice, and that he's talking to Carey Mulligan about playing the female lead.
(Mulligan is also a popular pundit's choice for the soon to be cast Lisbeth Salander in David Fincher's The Girl With the Dragon Tattoo, but Fincher is said to want an unknown and we don't know where that casting stands.)
Ian McEwan will adapt his own story, which is set in the UK in 1963. It follows two newly married virgins, both in their early '20s, "whose attempt to consummate ends badly. Their futile attempt at lovemaking leads to doubt and recriminations."
Easy to see how Mendes could be attracted to that story. Sounds like it could draw a line parallel to the couples' malaise at the center of Revolutionary Road. Just hope it has more life than that movie did. Perhaps ironically, it sounds as if On Chesil Beach could actually be well-suited to a stage adaptation, even more than a movie.
And with respect to Bond, there's been news in the past few days that American author Jeffery Deaver is penning the new James Bond novel. Given that the film has been delayed indefinitely, it's easy to wonder whether the new novel might have some impact on the story of the twenty-third film. No plot, setting or title details are known, but the novel is planned for publication in May 2011.