Chris Columbus Enables Neil Jordan's Adaptation Of Neil Gaiman's 'The Graveyard Book'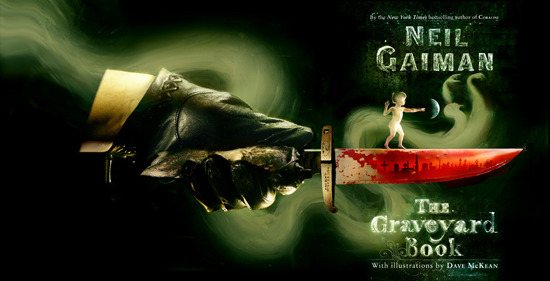 In October of 2008 we heard from Neil Gaiman that a film was in development based on his novel The Graveyard Book. A few months later, Gaiman revealed that Neil Jordan would write and direct. And that, for the most part, is all we've known about the project.
Now a report on the slate of films for Chris Columbus' company 1492 Pictures and financing partner CJ Entertainment out of South Korea suggests that the film is coming closer to being a reality. That's a joy; not only is Jordan a potentially great choice for the material, but after a week of regurgitated reboot and sequel news, this is news of a film that could have a unique identity.
Deadline reports on the development, reiterating that Jordan will write and direct the live-action film. Gaiman is producing with Framestore (who have been on board since the beginning) and Wayfare Entertainment; CJ will co-finance the film and distribute in Korea and Japan.
As for the script, Gaiman made some comments to MTV not long ago. Jordan has turned in one draft, and Gaiman and the producers are awaiting his second, based on notes given.
There was some stuff that was good, and in some cases, too faithful...It reminded a little bit of the first draft we got of 'Coraline,' where it was just so faithful because the person doing it loved the book so much...You actually have to let it breathe and make it a movie...It will be interesting to see what happens in Neil's next draft.
Here's a recap of the novel, which you'll note is quite inspired by The Jungle Book:
While a highly motivated killer murders his family, a baby, ignorant of the horrific goings-on but bent on independence, pulls himself out of his crib and toddles out of the house and into the night. This is most unfortunate for the killer, since the baby was his prime target. Finding his way through the barred fence of an ancient graveyard, the baby is discovered by Mr. and Mrs. Owens, a stable and caring couple with no children of their own—and who just happen to be dead. After much debate with the graveyard's rather opinionated denizens, it is decided that the Owenses will take in the child. Under their care and the sponsorship of the mysterious Silas, the baby is named "Nobody" and raised among the dead to protect him from the killer, who relentlessly pursues him. This is an utterly captivating tale that is cleverly told through an entertaining cast of ghostly characters. There is plenty of darkness, but the novel's ultimate message is strong and life affirming.