The Bechdel Test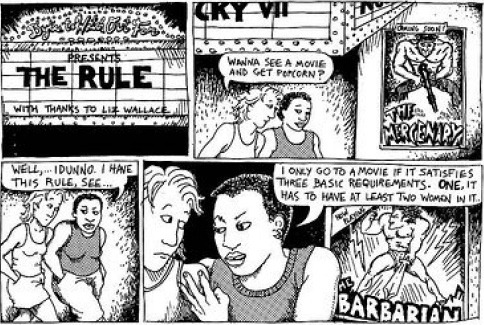 Have you ever heard of The Bechdel Test? The term/concept comes from a 1985 edition of Alison Bechdel's comic strip Dykes to Watch Out For entitled "The Rule." The test points out the systemic problem with a lack of female presence in Hollywood films, and you might be shocked to learn how many popular films don't "pass" three simple rules.
Here is a quick video that has recently gone viral and explains everything:
In the in 1985 Dykes to Watch Out For comic strip entitled "The Rule", one of the characters claims that she only watches a movie if it satisfies the following requirements:
1. It has to have at least two women in it,
2. Who talk to each other,
3. About something besides a man.
Here is the original comic strip: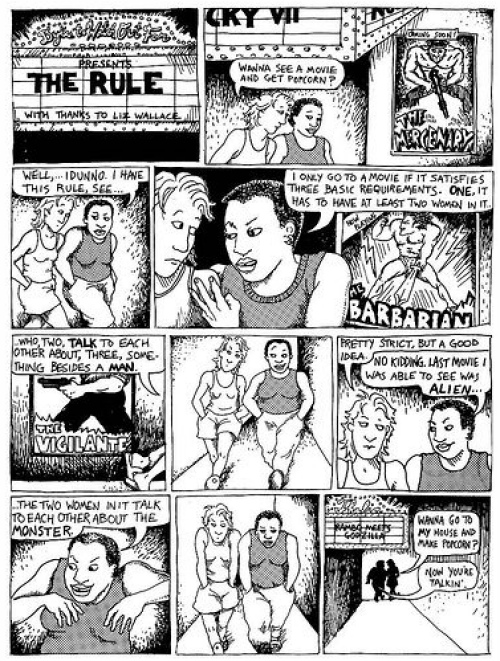 You might be shocked to learn just how many movies don't pass this simple test. Someone even started website BechdelTest.com to chronicle the films which do and don't pass the test. Here are some recent films that do not pass the test:
Green Zone, Hot Tub Time Machine, Iron Man 2, How To Train Your Dragon, Kick-Ass, MacGruber, Prince of Persia: The Sands of Time, Shutter Island, The Wolfman, (500) Days of Summer, Angels & Demond, Antichrist, Avatar, Bruno, Cloudy With a Chance of Meatballs, District 9, Fantastic Mr. Fox, Funny People, The Hangover, Ice Age: Dawn of the Dinosaurs, Knowing, Moon, Ninja Assassin, Sherlock Holmes, The Taking of Pelham 123, Up in the Air, Watchmen and Up.
Here are some of the recent films which do pass the test:
Alice in Wonderland, The Back-up Plan, The Crazies, Date Night, Letters to Juliet, Robin Hood, Away We Go, Coraline, Drag Me To Hell, Futurama: Into the Wild Green Yonder, Harry Potter and the Half-Blood Prince, The House of the Devil, In The Loop, Inglourious Basterds, Jennifer's Body, Julia & Julia, New Moon, Precious, The Princess and the Frog, Push, Star Trek, The Lovely Bones, Transformers 2, Whip It, X-Men Origins: Wolverine and Zombieland.
Again, this test does not say anything about the quality of a film or its box office appeal. It only demonstrates how Hollywood rarely includes complex women characters in movies (especially true if the main character is not a woman).