Legendary Pictures Purchases Rights To Video Game Series 'Mass Effect'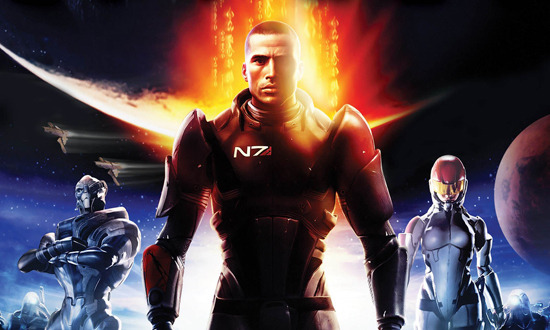 I'm surprised it has taken this long after the release of Mass Effect 2 for a deal like this to go down: Legendary Pictures has picked up the rights to the BioWare game series Mass Effect. I Am Legend and Thor screenwriter Mark Protosevich has been assigned to write.
THR says that Avi and Ari Arad will produce with Thomas Tull and Jon Jashni from Legendary. The project is early in development; Warner Bros. would co-finance and distribute worldwide.
We don't yet know which game(s) will be adapted at first. Two of three planned titles have seen release, and they are each massive, with a large number of alternate pathways and side stories that contribute to the overall plot. While there is one core throughline to Mass Effect, the nature of the lead character and the precise outcome of any particular playthrough is subject to change based on many factors. That's the attraction of the game, and obviously won't be captured in a film, which will necessarily have to focus on one presentation.
On one hand I like this idea, because if done well Mass Effect would be the sort of massive, sprawling space opera we so rarely see on screens. (It's better suited for HBO or another high-budget television outlet, really.) But so much of the appeal of the game is that flexibility to play it different ways and see a variety of outcomes. There's an unpredictability there, especially as major characters can and do die. That tension probably won't be present in the film to even a similar degree.
Here's a quick marketing blurb summation of the first game:
The galaxy is trapped in an endless cycle of extinction. Every 50,000 years, an ancient machine race invades the galaxy. With ruthless efficiency, the machines wipe out all advanced organic civilization. They leave behind only the scattered ruins of technology, destroying all evidence of their own existence. Few believe this ancient legend. You, however, know it to be true. The fight to stop this extinction event has become the most important mission in the galaxy. As Commander Shepard of the SS Normandy, you will take your elite recon squad across a galaxy in turmoil, in a desperate race to stop the return of an enemy without mercy. To stop this enemy, you must act without remorse, without hesitation, and outside the limits of the law. Your only imperative is to preserve the safety of civilized life in the galaxy – at any cost. You must become the tip of the spear of humanity, for you alone know the full extent of what is at stake if you should fail.