Shia LaBeouf On Indiana Jones 4: "I Dropped The Ball On The Legacy"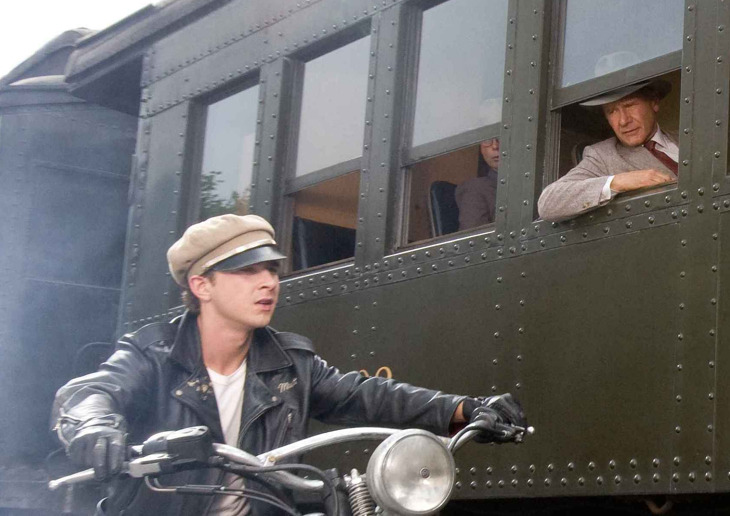 When authority figures unequivocally apologize for wrongs they have inflicted upon people, it can help accelerate the healing process. Maybe the same can be true for celebrities and their apologies too.
While at the Cannes film festival promoting Wall Street: Money Never Sleeps, Shia LaBeouf let loose about his thoughts on Indiana Jones and the Kingdom of the Crystal Skull. Guess what? He wasn't a huge fan of the movie either. Hit the jump for some of his damning quotes.
LeBeouf met with a group of reporters at the Hotel du Cap and the LATimes has the quotes. Speaking about taking on two films with beloved legacies (Indiana Jones and Wall Street), LaBeouf said, "I feel like I dropped the ball on the legacy that people loved and cherished...If I was going to do it twice, my career was over. So this was fight-or-flight for me."
LaBeouf also acknowledged that most of the people who contributed to the film's $780+ worldwide gross probably knew what they were getting:
I think the audience is pretty intelligent. I think they know when you've made (slop). And I think if you don't acknowledge it, then why do they trust you the next time you're promoting a movie...We [Harrison Ford and LaBeouf] had major discussions. He wasn't happy with it either. Look, the movie could have been updated. There was a reason it wasn't universally accepted....We need to be able to satiate the appetite. I think we just misinterpreted what we were trying to satiate.
The young actor seemed surprisingly harsh on himself, given the circumstances. LaBeouf commented:
You get to monkey-swinging and things like that and you can blame it on the writer and you can blame it on Steven [Spielberg, who directed]. But the actor's job is to make it come alive and make it work, and I couldn't do it. So that's my fault. Simple.
Sure, Mutt Williams (the character that LaBeouf played in Indy 4) wasn't exactly my favorite character in the world (or in the series, for that matter), but LaBeouf was far from the film's worst problem. Indy 4 suffered from sloppy, uninspired writing, clumsy use of CGI, lackluster set pieces...I could go on. In the end, it came off as nothing more than a cold cash grab, albeit an extremely effective one that just may have ended up mildly soiling the series we all love and cherish.
As for how Spielberg might respond to his remarks, LaBeouf was relatively fearless:
I'll probably get a call. But he needs to hear this. I love him. I love Steven. I have a relationship with Steven that supersedes our business work. And believe me, I talk to him often enough to know that I'm not out of line. And I would never disrespect the man. I think he's a genius, and he's given me my whole life. He's done so much great work that there's no need for him to feel vulnerable about one film. But when you drop the ball you drop the ball.
The brutal honesty is as refreshing to me as cold water on a hot summer day.
Check out the whole interview at the LATimes, which features some more quotes about the Wall Street sequel.
Discuss: So what do you guys think? Were LaBeouf's remarks justified?