Sam Worthington Set To Star In And Produce New Allan Quatermain Film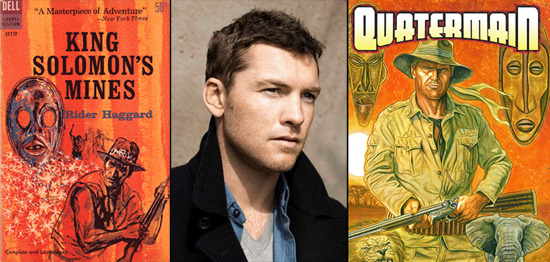 Sam Worthington cannot be stopped. He hasn't really distinguished himself in his last few big movies, but those movies have generally done rather well. You might have heard the numbers on Avatar by now. So he's become one of the bright young lights as far as studios are concerned.
In addition to the many other films he's been attached to, Worthington is now attached to Quatermain, a sci-fi take on the classic hero from King Solomon's Mines.
THR reports on the DreamWorks picture, which sounds as if it will be only loosely based on the novels by H. Rider Haggard.
This version of the story is set in the future (hence 'a sci-fi take') "in which humans have left Earth and sees Quatermain return to the planet from a sojourn in space, embarking on another King Solomon's Mines-style adventure but on a planetwide scale."
(King Solomon's Mines featured the small, wiry Quatermain, big-game hunter and expert marksman, who is haunted by the destruction he has wrought on the wilds of Africa. It told of an expedition to find the brother of an aristocrat who disappeared while searching for the famed Mines. There are encounters with warrior tribesmen, a map drawn in blood and plenty of grand old adventure.)
The script that led to this project was in the trades last year when Mark Verheiden wrote it, but we didn't report on it at that point. (We did, however, once write about a low-budget Quatermain film from Asylum.) I don't know if Verheiden will be continuing to work with Worthington and producers Alfred Gough and Miles Millar, or if there will be a new hire. There's no director on board now, either.
I'll hold out some hope for this just based on the fact that Quatermain hasn't been done justice when adapted to film in the last 50 years. Besides the obvious film versions (the two mid-'80s Richard Chamberlain films, for example) there was an attempt to bring Alan Moore's version of the character to life in The League of Extraordinary Gentlemen. We know how that turned out. At least there's Indiana Jones, the creation of whom was heavily influenced by Quatermain.