Colin Farrell Takes The Chris Sarandon Role In Fright Night Remake; Also Cast In Comedy Horrible Bosses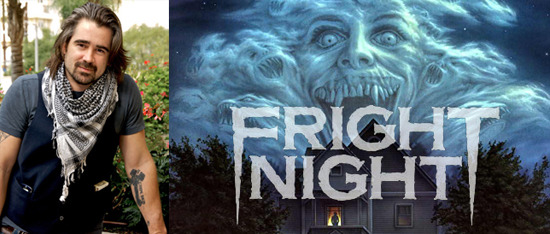 The remake of Fright Night started off with a great piece of casting, as Anton Yelchin will play Charley Brewster, the young guy who fears for his life when he discovers that a vampire has moved in next door.
Now we've got a name for the vampire — Colin Farrell will play the role originated by Chris Sarandon in the original Fright Night.
Deadline also says that Toni Collette will be in the film, presumably as Charley's mom, who is briefly romanced by Farrell's vampire as he tries to convince Charley that he's a normal guy. It's hard to argue with Collette, as she's quite good in general, and I like the idea of Farrell, too. He doesn't have quite the old-world charm of Sarandon, which made the vampire in the original so right, but I can see him bringing his own blend of seductive evil energy to the role. And if director Craig Gillespie keeps some of the sexual subtext that made the original film stand out, Farrell could be perfect.
The big question remains: who'll play Peter Vincent, the TV horror host originally played by Roddy MacDowall? And will he even be a TV horror host, given that the idea of that character was intentionally antiquated at the time the original was made, and is now the type of personality that has totally vanished from television.
In addition to Fright Night, Farrell is booking a New Line comedy called Horrible Bosses. That's based on a spec script the studio bought in 2005 with the logline, "A comedy of errors, the movie is about three friends who conspire to kill their overbearing bosses." The LA Times recently reported that Seth Gordon was being courted as director, and that John Francis Daley from Freaks and Geeks was rewriting.