Paramount Officially Passes On Anchorman 2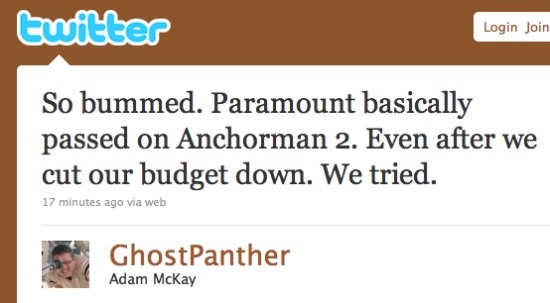 Anchorman: The Legend of Ron Burgundy director Adam McKay just revealed on twitter that Paramount Pictures has officially passes on making an Anchorman 2, even after they did a massive cut to the project's budget.
This comes after a report two days ago that the Anchorman sequel was much closer to happening than anyone had anticipated. McKay was quoted as saying:
"It's a tricky movie because everyone went and did really well after it, so everyone's prices went up and everyone's time got a little more valuable. But at the same time, graciously, Steve and Paul and everyone agreed to cut their price to come and do [the sequel], which you don't see very often in Hollywood — and cut their price substantially. But even with that, it's just a budgetary thing with Paramount in terms of how much they'll give us to make it. We had an idea and we contacted Steve and Paul and [David] Koechner and Christina [Applegate] and checked in with everyone and they were all game for it. The stage we're at now is talking to Paramount and trying to get the money to do it."