Carey Mulligan Offered Role In Fincher's The Girl With The Dragon Tattoo? Nope, Says Scott Rudin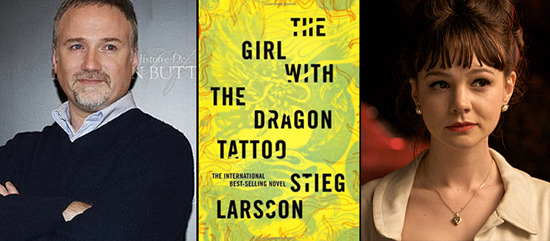 There's been some talk aready this week about how Carey Mulligan (An Education) may end up playing the central character Lisbeth Salander in David Fincher's new version of The Girl With the Dragon Tattoo. But despite one report that claims she's a lock, other sources, including the film's producer, Scott Rudin, say otherwise.
The Times Online, generally worth taking stock in, claimed on Friday that Mulligan "has won the approval of David Fincher, the director, and also the family of the late Stieg Larsson, the Swedish author who created Salander." Supposedly that was after weeks of looking at thousands of candidates, and the report went on to surmised that Mulligan has the part.
Easy to see why, since she's talked several times about being interested, and there's no doubt that she could knock it out of the park. "I am obsessed with those books," she has said. "I would love to do them. I am not going to lie about that. I would love to play Lisbeth Salander."
But The Playlist talked to their Fincher source, who said that there is "mutual admiration" between Mulligan and the Dragon Tattoo camp, but that casting is still underway and there is a lot of work to be done yet. And Fincher has said he wants an unknown for the role.
And now Jeff Wells has talked to Scott Rudin, who says the report is "absolutely not true." And I wouldn't expect to hear anything yet, as Steve Zaillian still has his script to complete. Until that is handed in don't expect to hear any truly reliable casting news, as much as a variety of actors might like to be linked to a new Fincher project based on such high-profile source material. I'm as interested as any to see who he comes up with, and am actually hoping for plans to cast an unknown to work out. Love to see Fincher discover new talent with this film.