Is This The New Look Of The Teenage Mutant Ninja Turtles Reboot?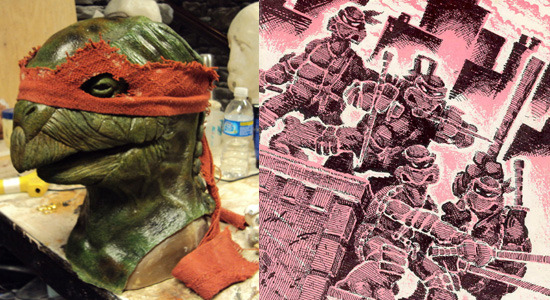 Update: Someone in the comments points out that the prop was "constructed for class by Eric Zapata- he's a student at Tom Savini's FX school."
We, like many others, missed this news item as it hit late last week. Last year it was announced that The Mirage Group/Legendary Pictures were developing a new live-action big screen movie reboot of the Teenage Mutant Ninja Turtles. Could the above left image (found on LatinoReview) be our first look at the new design of the Ninja Turtles? It definitely looks a lot more realistic. Very similar to a fan-made real-life ninja turtle design we posted in 2008. What do you think?
Laird has previously confirmed that the initial discussions involved using "hybrid" ninja turtles:
As you may recall from some of my previous comments, our initial discussions regarding the next film had to do with what we were calling a "hybrid" — live action with realistic Turtles rendered in CGI and blended in. This new idea — which, frankly, I am VERY pumped about — will have actors and stunt performers in full Turtle suits for filming in live action. As of right now, there is talk of using CGI to do "face replacement" for the suits so that we can get those great, expressive faces possible with CGI.
The other ideas discussed was a "Batman Begins-style", retelling the Turtles' origin story. The film would probably include Shredder, April O'Neil and Casey Jones. In July they held an open casting call for Shredder's Foot Soldiers/Foot Clan. Laird has said that they are planning to return to the roots of the original comic book series, so it will be interesting to see what direction they go in. The image above certainly fits that dark and real style.
The movie was initially announced for a 2011 release date.