Sam Mendes To Direct 'Oz The Great And Powerful' With Star Robert Downey, Jr?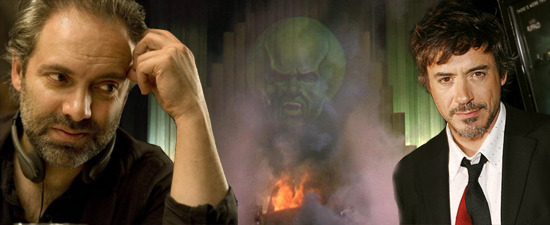 Update: The LA Times mentions that another director who is a top candidate for the film is Adam Shankman (Bedtime Stories). So let that temper your excitement a bit, at least for now.
Guess this answers the question about what Sam Mendes is doing while EON Productions figures out the future of James Bond. While the director was hired as a 'consultant' on Bond 23 (supposedly a precursor to being the director of that film, but without MGM having to put out any money for him yet) the shelving of that movie leaves him free.
Now we hear he may direct a Wizard of Oz movie, Oz the Great and Powerful, with leading man Robert Downey, Jr. Talk about change-ups. What's going on here?
Sadly, we don't know much. The basic info comes from a Production Weekly tweet (those guys have been on a roll lately with casting and project announcements) which says, simply:
Sam Mendes is the front runner to direct "Oz The Great And Powerful" by Mitchell Kapner, with Robert Downey, Jr. circling to play the Wizard.
So this deal isn't done — both those names are tentative at this point. But the very possibility of the film is unexpected and intriguing.
This one is being produced by Alice in Wonderland's Joe Roth. The original title of the script was Brick, as reported by the LA Times last month. (Oz the Great and Powerful is a better title for several reasons, not least that there's already a great film called Brick.)
Kapner's script takes the idea that the Wizard is also transported to Oz from Kansas, and details how he came to be the power seen in The Wizard of Oz. Kapner based the script of a collection of influences from L. Frank Baum's Oz books as well as some ideas of his own to produce a story that suggests "the wizard is a charlatan who's part of a traveling circus but goes on a similar odyssey as Dorothy when he mysteriously lands in Oz."