Promo Reel For John Woo's Reign Of Assassins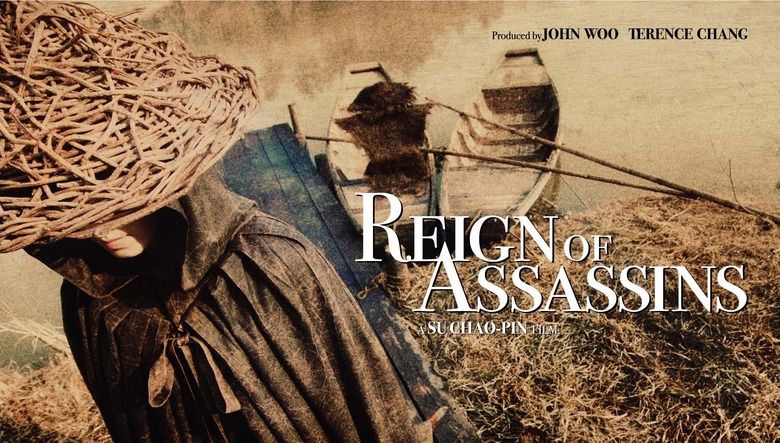 Leaving Hollywood was the best thing John Woo ever did for his career. After a string of action films of steadily declining quality, Woo made the Chinese epic Red Cliff, which landed on several critics top 10 lists of 2009. Now comes Reign of Assassins, a new film that Woo produced with longtime partner Terence Chang. We have the promo reel (via Twitch) after the jump. Assassins is written and directed by Su Chao-Pin, but the promo reel says that Woo "co-directed" it. Hit the jump to check out the reel and leave your thoughts in the comments below.
I have to admit that while some of the wuxia martial arts sequences (not to mention the subtitles) look a little bit silly, it is such a personal thrill to see Woo involved with something that's essentially the polar opposite of what he did in the States. Throw Michelle Yeoh into the mix, who at this point is still kicking ass at the age of 47, and you can definitely count me in for this one. My only disappointment is that there won't be any substantial gunplay, but who knows? The Chinese did invent gunpowder.
Reign of Assassins will be released in fall 2010.
Here's the official plot synopsis for Reign of Assassins. Note that these details can probably be considered spoilers:
428AD, Bodhi, a Southern India prince became a Buddhist monk and set off for China, earning a hallowed reputation as a mystical martial artist. Following his death, his remains mysteriously disappeared.
Hundreds of years later, Zhang, a high-ranking court official, is assassinated by Drizzle. Zhang's son Jingxiu, whilst mourning his father's death, is assailed by a group assassins. They leave him for dead, but somehow he survives and escapes their clutches.
Drizzle, a talented warrior herself, finds herself in possession of Bodhi's remains, and begins her quest to return them to their rightful resting place at Yunhe Temple. The Black Stone, a team of deadly assassins who employed Drizzle, are also after the remains and the powerful secret they hold. To hide from The Black Stone, Drizzle undergoes drastic facial surgery and changes her name to Zeng Jing (Michelle Yeoh). She flees to Beijing, where she meets and falls in love with Jiang, soon to become her husband. After a confrontation in Beijing, Zeng Jing's identity is uncovered and both she and Jiang must flee for their lives. As Zeng Jing kills off members of the gang while they are on the run, she quickly realizes Jiang is actually Jingxiu, and he is seeking to avenge his father's death. This leads to a lethal triangle and a fight to death between our hero Zeng Jing, Jiang and The Black Stone.
The only question remains who will be the last ones standing to uncover the secret of Bodhi's remains?