Hayley Atwell Cast As Captain America's WWII Love Interest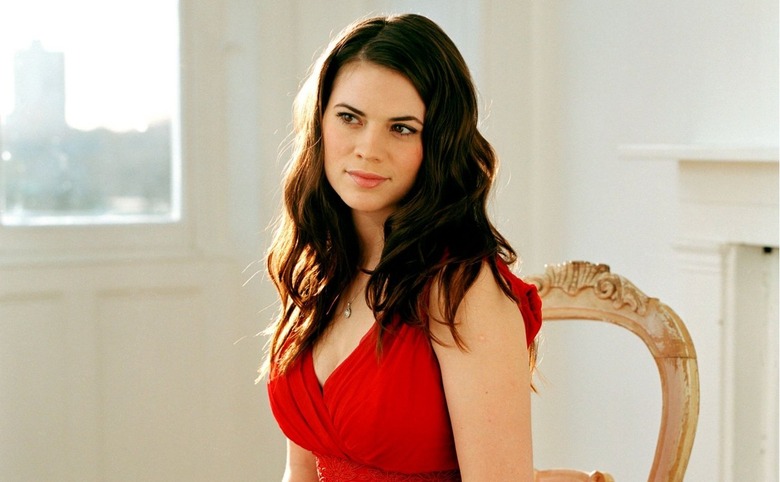 Marvel has finally found an actress to play the lead female role in Joe Johnston's The First Avenger: Captain America. 28-year old British actress Hayley Atwell will play the Captain's World War II girlfriend Peggy Carter.
As you might recall, a couple weeks back it was
that Marvel Studios was testing British actresses for the role, including Alice Eve, Keira Knightley and Emily Blunt. Eve
Marvel's top choice for the role after Blunt
. Not sure what happened but
is reporting that Atwell clinched the role after screen testing in London last week.
Here is a description of the character from the comics thanks to ComicVine:
Peggy was a girlfriend of Captain America during World War II. She was also an American agent serving with the French Resistance. She has standard military training and is handy with a gun. She is also a competent spy and detective.  Recently she is residing at the LarkMoore Clinic. (Nursing home) Due to old age and possibly with Alzheimer because of her forgetful nature.
Peggy became the aunt of Sharon Carter, Captain America's love interest when the comic book story switched to modern times.
You might not recognize Hayley Atwell by name, but you might have seen her in couple projects over the past few years: the television miniseries The Prisoner, alongside fellow Peggy Carter contender Keira Knightley in Saul Dibb's The Dutchess, Woody Allen's 2007 film Cassandra's Dream and an appearance in Brideshead Revisited.
The cast so far: Chris Evans will play Steve Rogers (aka Captain America), Sebastian Stan will play his sidekick Bucky Barnes, while Hugo Weaving is still in talks to play the film's villain Red Skull.
Update: Marvel has confirmed, issuing an official press release:
Hayley Atwell Confirmed as Peggy Carter in Marvel Studios'
CAPTAIN AMERICA: THE FIRST AVENGER
Marvel Studios announced today that Hayley Atwell has been cast to star as Peggy Carter in the studio's highly anticipated movie CAPTAIN AMERICA: THE FIRST AVENGER opposite Chris Evans. In the early comics, Peggy Carter fell in love with Captain America while they fought together in the war effort. The character will be updated for the feature adaptation. Joe Johnston will direct the film penned by Christopher Markus & Stephen McFeely.
Marvel Studios' Kevin Feige will produce CAPTAIN AMERICA: THE FIRST AVENGER. Alan Fine, Stan Lee, David Maisel and Louis D'Esposito will executive produce. The film will be released in the US on July 22, 2011 and distributed by Paramount Pictures.
CAPTAIN AMERICA: THE FIRST AVENGER will focus on the early days of the Marvel Universe when Steve Rogers volunteers to participate in an experimental program that turns him into the Super Soldier known as Captain America.
Atwell will next be seen in PILLARS OF THE EARTH, the 8-part miniseries premiering July 23 on Starz and the TV series THE PRISONER. Her film credits include THE DUCHESS, BRIDESHEAD REVISITED and CASSANDRA'S DREAM.
In addition to CAPTAIN AMERICA: THE FIRST AVENGER, Marvel Studios will release a slate of films based on the Marvel characters including the highly anticipated sequel, IRON MAN 2, starring Robert Downey Jr. and Gwyneth Paltrow on May 7, 2010, THOR on May 6, 2011, and Marvel Studios' THE AVENGERS on May 4, 2012.
Atwell is represented by CAA and United Agents.