The Losers Sizzle Reel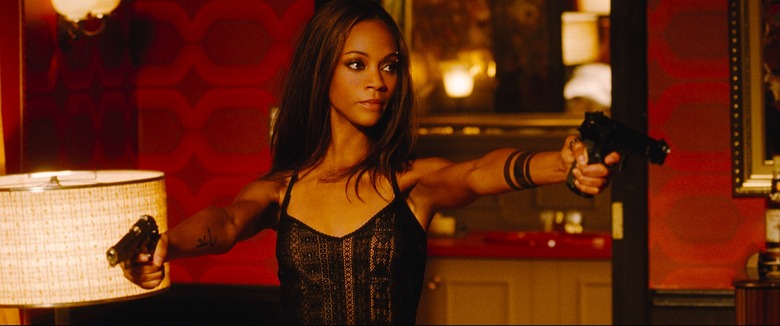 Earlier today we posted 34 high resolution photos from the big screen adaptation of The Losers. I'm not sure why, but after all the trailers, photos, clips and interviews, I haven't really been excited to see this movie. That is, until Warner Bros premiered a sizzle reel for the film at WonderCon this past weekend.  This three and a half minute clip (which should really be called an extended movie trailer) doesn't show a ton of new footage, but somehow I came out thinking this movie might be a lot of fun. Do you agree? The clip is now online, thanks to MySpace, and can be watched embedded after the jump. Leave your thoughts in the comments below!
Official Plot Synopsis:
An explosive action tale of betrayal and revenge, "The Losers" centers around the members of an elite Special Forces unit sent to the Bolivian jungle on a search and destroy mission. But the team–Clay, Jensen, Roque, Pooch and Cougar–soon find that they have become the target of a deadly double cross, instigated from the inside by a powerful enemy known only as Max.
Making good use of the fact that they are now presumed dead, the group goes deep undercover in a dangerous plot to clear their names and even the score with Max. They are joined by the mysterious Aisha, a beautiful operative with her own agenda, who is more than capable of scoring a few points of her own. Working together, when they're not arguing amongst themselves, they have to stay one step ahead of the globetrotting Max–a ruthless man bent on embroiling the world in a new high-tech global war for his own benefit. If they can take down Max and save the world at the same time, it'll be a win-win for the team now known as The Losers.
"The Losers" stars Jeffrey Dean Morgan ("Watchmen") as Clay; Zoë Saldana ("Avatar," "Star Trek") as Aisha; Chris Evans (the "Fantastic Four" films) as Jensen; Idris Elba ("Obsessed") as Roque; Columbus Short ("Stomp the Yard") as Pooch; Oscar Jaenada ("Che: Part Two") as Cougar; and Jason Patric ("In the Valley of Elah") as Max. Sylvain White ("Stomp the Yard") directed the film from a screenplay by Peter Berg and James Vanderbilt, based upon the comic book series written by Andy Diggle, illustrated by Jock and published by DC Comics/Vertigo. "The Losers" is produced by Joel Silver, Akiva Goldsman and Kerry Foster, with Steve Richards, Andrew Rona, Sarah Aubrey and Stuart Besser serving as executive producers and Richard Mirisch co-producing.