New Iron Man 2 Viral Website: AccuTech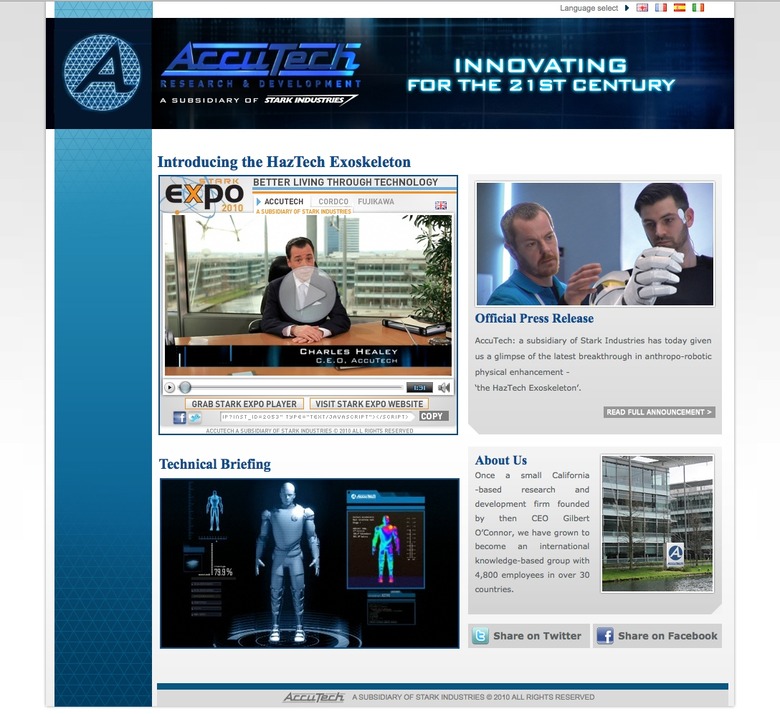 We have been given an exclusive first look at a new viral website for Paramount Pictures and Marvel Entertainment's Iron Man 2. The website, located at starkexpo2010.com/accutech, is for AccuTech Research & Development, a subsidiary of Stark Industries. Accutech will premiere a breakthrough in anthropo-robotics — the new HazTech robotic exoskeleton, at Stark Expo 2010.
Using revolutionary hyper-sensors and nano-hydraulic technology, the exoskeleton is able to detect and amplify body movement. Covering over 80% of the human body, it also protects its wearer from high impact and extreme temperatures.
The website features a press release and a couple videos, one of which is embedded after the jump. I'm sure more will be revealed in the lead up to Stark Expo on May 5th 2010 (errr I mean the release of Iron Man 2).