New Movie Posters: MacGruber, The Losers, Beastly, Despicable Me, Toy Story 3


A bunch of new movie posters hit today, so I thought I'd do a round up of some of the one-sheets we didn't get to on the site. The movies include: MacGruber, The Losers, Beastly and Easter-focused posters for Despicable Me and Toy Story 3. Hit the jump to see all the new posters. Click on the images to enlarge.
MacGruber: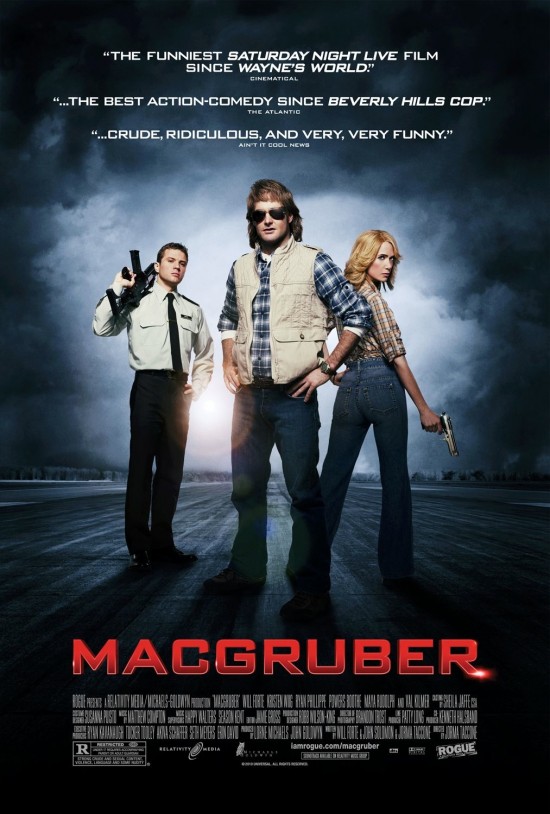 Official Synopsis:
Only one American hero has earned the rank of Green Beret, Navy SEAL and Army Ranger. Just one operative has been awarded 16 purple hearts, 3 Congressional Medals of Honor and 7 presidential medals of bravery. And only one guy is man enough to still sport a mullet. In 2010, Will Forte brings Saturday Night Live's clueless soldier of fortune to the big screen in the action comedy MacGruber.
In the 10 years since his fiancée was killed, special op MacGruber has sworn off a life of fighting crime with his bare hands. But when he learns that his country needs him to find a nuclear warhead that's been stolen by his sworn enemy, Dieter Von Cunth (Val Kilmer), MacGruber figures he's the only one tough enough for the job.
Assembling an elite team of experts—Lt. Dixon Piper (Ryan Phillippe) and Vicki St. Elmo (Kristen Wiig)—MacGruber will navigate an army of assassins to hunt down Cunth and bring him to justice. His methods may be unorthodox. His crime scenes may get messy. But if you want the world saved right, you call in MacGruber.
Release date: May 21, 2010
Rating: R
Genre: Action comedy
Cast: Will Forte, Kristen Wiig, Ryan Phillippe, Powers Boothe, Maya Rudolph and Val Kilmer
Written by: Will Forte & John Solomon & Jorma Taccone
Directed by: Jorma Taccone
Despicable Me: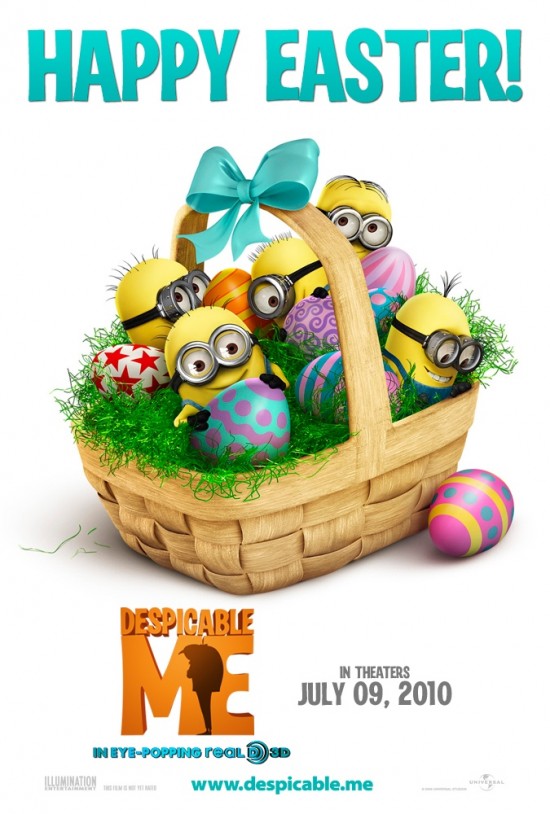 Synopsis: In a happy suburban neighborhood surrounded by white picket fences with flowering rose bushes, sits a black house with a dead lawn. Unbeknownst to the neighbors, hidden deep beneath this home is a vast secret hideout. Surrounded by an army of tireless, little yellow minions, we discover Gru (Steve Carell), planning the biggest heist in the history of the world. He is going to steal the moon (Yes, the moon!) in Universal's new 3-D CGI feature, Despicable Me. Gru delights in all things wicked. Armed with his arsenal of shrink rays, freeze rays and battle-ready vehicles for land and air, he vanquishes all who stand in his way. Until the day he encounters the immense will of three little orphaned girls who look at him and see something that no one else has ever seen: a potential Dad. One of the world's greatest super-villains has just met his greatest challenge: three little girls named Margo, Edith and Agnes.
Release date: July 9, 2010
Cast: Steve Carell, Jason Segel, Russell Brand, Will Arnett, Kristen Wiig, Danny McBride, Miranda Cosgrove, Jack McBrayer, Mindy Kaling, Jemaine Clement and Julie Andrews
Directed by: Chris Renaud & Pierre Coffin
Written by: Cinco Paul & Ken Daurio
Toy Story 3 (Easter International Poster):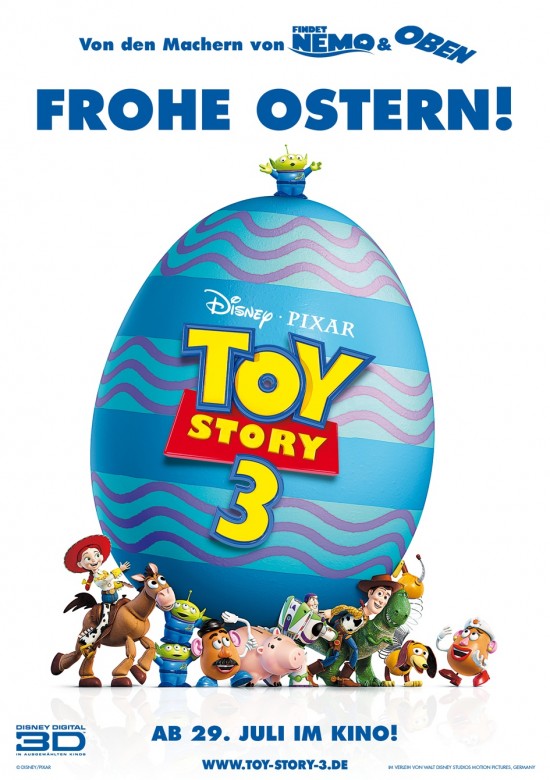 The creators of the beloved "Toy Story" films re-open the toy box and bring moviegoers back to the delightful world of our favorite gang of toy characters in TOY STORY 3. As Andy prepares to depart for college, Buzz, Woody and the rest of his loyal toys are troubled about their uncertain future. Directed by Lee Unkrich (co-director of "Toy Story 2" and "Finding Nemo"), TOY STORY 3 is a comical new adventure in Disney Digital 3D™ that lands the toys in a room full of untamed tots who can't wait to get their sticky little fingers on these "new" toys. It's pandemonium as they try to stay together, ensuring "no toy gets left behind." Meanwhile, Barbie comes face to plastic face with Ken (yes, that Ken), and a few new toys join in the fun, including a thespian hedgehog named Mr. Pricklepants and a strawberry-scented teddy bear named Lots-o'-Huggin' Bear. Pixar veteran Darla K. Anderson ("Cars," "Monsters, Inc.") produces, while Michael Arndt, Academy Award®-winning screenwriter of "Little Miss Sunshine," brings his unique talents and comedic sensibilities. In theaters June 18, 2010.
The Losers: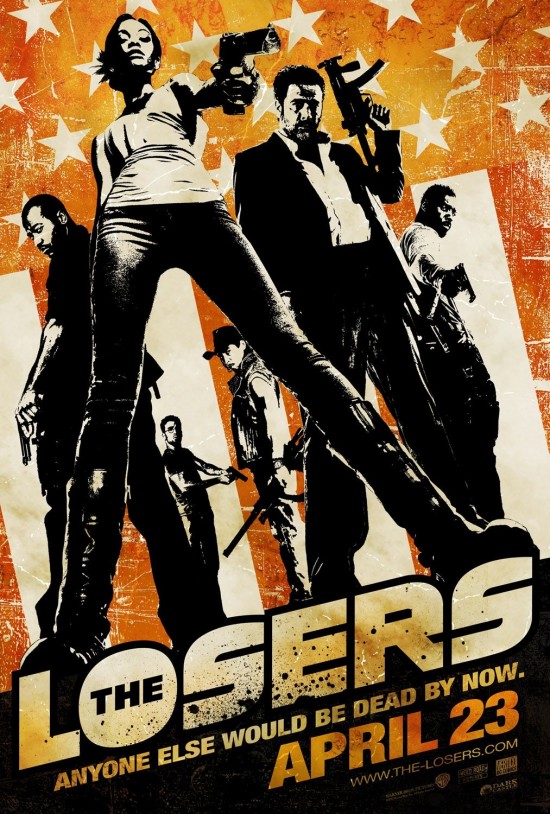 Official Plot Synopsis: An explosive action tale of betrayal and revenge, "The Losers" centers around the members of an elite Special Forces unit sent to the Bolivian jungle on a search and destroy mission. But the team—Clay, Jensen, Roque, Pooch and Cougar—soon find that they have become the target of a deadly double cross, instigated from the inside by a powerful enemy known only as Max. Making good use of the fact that they are now presumed dead, the group goes deeply undercover in a dangerous plot to clear their names and even the score with Max. They are joined by the mysterious Aisha, a beautiful operative with her own agenda, who is more than capable of scoring a few points of her own. Working together, when they're not arguing amongst themselves, they have to stay one step ahead of the globetrotting Max—a ruthless man bent on embroiling the world in a new high-tech global war for his own benefit. If they can take down Max and save the world at the same time, it'll be a win win for the team now known as The Losers.
"The Losers" stars Jeffery Dean Morgan ("Watchmen") as Clay; Zoe Saldana ("Avatar," "Star Trek") as Aisha; Chris Evans (the "Fantastic Four" films) as Jensen; Idris Elba ("Obsessed") as Roque; Columbus Short ("Quarantine") as Pooch; Oscar Jaeneda ("Che: Part Two") as Cougar; and Jason Patric (My Sister's Keeper) as Max.
Sylvain White (Stomp the Yard) directed the film from a screenplay by Peter Berg and James Vanderbilt, based upon characters appearing in magazines published by DC Comics / Vertigo Comics. "The Losers" is produced by Joel Silver, Akiva Goldsman and Kerry Foster, with Steve Richards, Andrew Rona, Sarah Aubrey and Stuart Besser serving as executive producers and Richard Mirisch co-producing. The behind-the-scenes creative team was led by director of photography Scott Kevan ("Stomp the Yard"), production designer Aaron Osborne ("Kiss Kiss, Bang Bang"), editor David Checel ("Stomp the Yard"), visual effects supervisor Richard Yuricich ("Orphan"), and costume designer Magali Guidasci ("Zombieland"). The music is by John Ottman ("4: Rise of the Silver Surfer"). Warner Bros. Pictures presents, in association with Dark Castle Entertainment, a Weed Road Pictures production, "The Losers." Opening nationwide on April 23, 2010, "The Losers" will be distributed by Warner Bros. Pictures, a Warner Bros. Entertainment Company.
Beastly:
via: IMPA, PixarBlog.de,