Spielberg Paranoia Claims From Nicole LaPorte's Book The Men Who Would Be King


We may receive a commission on purchases made from links.
Former Variety writer Nicole LaPorte has a book coming out in May called "The Men Who Would Be King: An Almost Epic Tale of Moguls, Movies, and a Company Called DreamWorks". The New York Post has gotten an early look at the book, and has published a listing of some of the more shocking claims.
According to the upcoming hardcover, Steven Spielberg is so paranoid about security at his office that a never-used motorcycle is kept permanently parked outside in case he needs to make a quick escape. Escape? From what? The book claims that the director's "passion for secrecy sometimes suggests a burgeoning near-paranoia."
Other claims include: A plexiglass half-moon (what one Dreamworks security guard refers to as the "dome of silence") is hung above Spielberg's office desk to keep sound from reverberating, ensuring that his phone conversations remain ultra-confidential. According to the upcoming publication, Spielberg orders that a black cloth must be draped over the projection booth window to hide the screen when his long-time editor screens prints, and has live camera streamed to his home when he is not in the office — just in case. And not as surprising, Spielberg requires that every document that leaves the office, be it a script, development report, or even a memo, must be coded, so that if it ever to fall into the wrong hands the person responsible for the breach could be identified.
If any of this is remotely true, I'm beginning to understand where the movie Eagle Eye came from (Spielberg contributed the original paranoia-inspired idea). But it's only paranoia if everyone isn't out to get you. Remember that in September 2007, Spielberg's office was burglarized. Photos, scripts, budget books and other important documents were stolen during the break-in. After trying to sell the stolen property to online movie websites, the thief was arrested and pled guilty to one count of receiving stolen property and one count of commercial burglary. He was sentenced to 28 months in jail.
From what I recall, no mention of any recorded footage or security craziness was made during the trial, which leads me to believe that not all of the allegations above are completely accurate. The book is being published by Houghton Mifflin Harcourt, so it must have been combed by big money lawyers. LaPorte claims that the facts in the book were learned after conducting nearly 200 interviews with current and former employees. As you might expect, DreamWorks' three founders, Spielberg, Jeffrey Katzenberg and David Geffen, did not cooperate in the project.
Spielberg's rep tells the Post that the claims above "is so far from the real world of Steven that it doesn't deserve a comment. If the rest of the book is like this excerpt, readers can expect very little of what they read to be true."One thing is for sure, true or false, big claims (like the ones above) will definitely sell a few books.
Update: Providing more information as to why someone like Spielberg might want a quick get-a-way cycle outside his office, Devin from CHUD reminds me that the filmmaker was the target of a bizarre kidnap attempt by an obsessed fan in 1997. According to Netscape:
The fan, Jonathan Norman, had reportedly been stalking Spielberg for some time when he trespassed onto the fantasy film guru's Malibu estate and was nabbed by a guard. Police later found pictures of Spielberg and his family, duct tape, curtain rods, handcuffs and a utility knife in Norman's possession, and determined that he was planning to kidnap and rape the director. Norman, as it turned out, was a paranoid schizophrenic.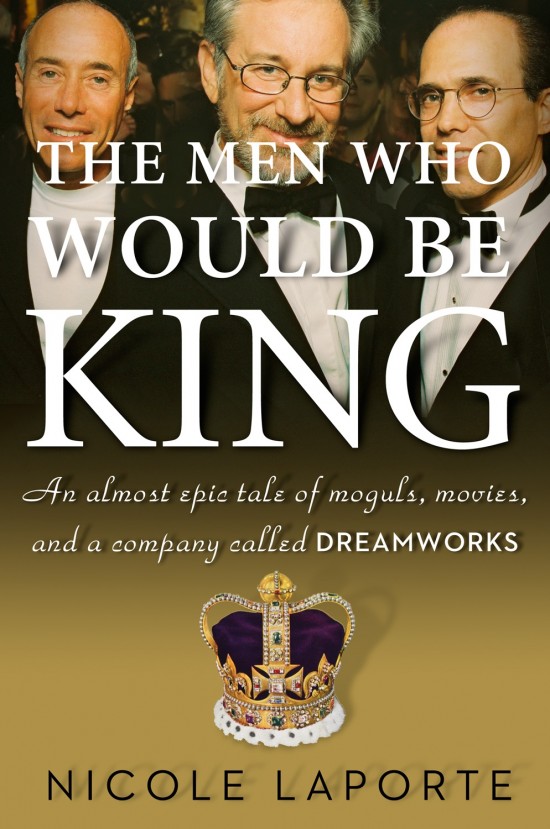 For those interested, here is the official description from the book:
For sixty years, since the birth of United Artists, the studio landscape was unchanged.Then came Hollywood's Circus Maximus—created by director Steven Spielberg, billionaire David Geffen, and Jeffrey Katzenberg, who gave the world The Lion King—an entertainment empire called DreamWorks. Now Nicole LaPorte,who covered the company for Variety, goes behind the hype to reveal for the first time the delicious truth of what happened. Readers will feel they are part of the creative calamities of moviemaking as LaPorte's fly-on-the-wall detail shows us Hollywood's bizarre rules of business.We see the clashes between the often otherworldly Spielberg's troops and Katzenberg's warriors, the debacles and disasters, but also the Oscar-winning triumphs, including Saving Private Ryan.We watch as the studio burns through billions, its rich owners get richer, and everybody else suffers.We see Geffen seducing investors likeMicrosoft's Paul Allen, showing his steel against CAA's Michael Ovitz, and staging fireworks during negotiations with Paramount and Disney. Here is Hollywood, up close, glamorous, and gritty.
And here are a few of the early review quotes:
"Power, grandiosity, arrogance, and incomprehensible ego. It's Hollywood, of course, and Nicole LaPorte's exhaustive non-fiction narrative of DreamWorks and the bizarre triumvirate of Spielberg, Geffen, and Katzenberg is stunning. The book reads like a novel and the reporting is impeccable. If you pick up one book about Hollywood, make it this one." —Buzz Bissinger, author of Friday Night Lights and former coproducer of NYPD Blue
"Here is the brilliant, brutal, misguided, narcissistic history of DreamWorks in all its glory, with David Geffen, Jeffrey Katzenberg, and Steven Spielberg working unscripted, without handlers or publicists dimming the lights.into in a rosy glow. Nicole LaPorte has written a lively, cunning studio history that should be required reading for all students of modern Hollywood." —Mimi Swartz, author of Power Failure: The Inside Story of the Collapse of Enron
"This book has all the right elements: deep-dish research, attitude to burn, page-turning readability, and a great subject. It belongs up there with the classics of Hollywood reportage." —Peter Biskind, author of Easy Riders, Raging Bulls: How the Sex-Drugs-and-Rock 'n' Roll Generation Saved Hollywood and Star: How Warren Beatty Seduced America
"Nicole LaPorte may never be able to eat lunch in Hollywood again, but her potential loss is our gain: The Men Who Would Be King is a riveting and honest portrayal of three of the most powerful men in the entertainment industry. I couldn't put it down and neither will you." —William Cohan, author of House of Cards
The 512-page book can be pre-ordered now on Amazon for around $18-$19. The book will hit store shelves on May 4th 2010.