Solitary Man Movie Trailer And Photos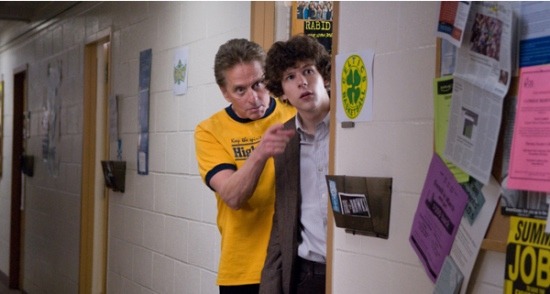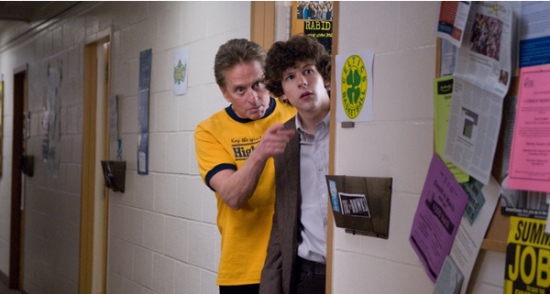 Update: The new trailer was taken offline within an hour of when we posted this story a few days back. The trailer is now back online, and embedded after the jump.
Anchor Bay Films has released a movie trailer for Brian Koppelman/David Levien's Solitary Man (not to be confused with Tom Ford's A Single Man or The Coen Brothers' A Serious Man). The film stars Academy Award winner Michael Douglas as a former car dealership mogul dealing with a string of business problems and issues in his personal life through a number of relationships with women – many women. Co-starring Jesse Eisenberg, Susan Sarandon, Danny DeVito, Jenna Fischer, and Mary-Louise Parker.
Koppelman/Levien wrote the screenplays for Rounders, Runaway Jury and directed Knockaround Guys. The film premiered at the 2009 Toronto International Film Festival to mostly positive buzz. Watch the trailer now embedded after the jump along with some new photos. Please leave your thoughts in the comments below.
New Photos:
Here is the extended plot synopsis from TIFF:
Drawing together the Michael Douglas mystique from both Wall Street and Fatal Attraction, Solitary Man casts Douglas as a predatory lion in winter, an alpha male led astray by his greed and his zipper. Ben (Douglas) once ruled a car-dealership empire vast enough to fuel a glossy Manhattan lifestyle and endow a library at an East Coast university. But by the time he arrives at the college with his girlfriend's daughter, Allyson (Imogen Poots), who is a prospective student, his world has collapsed around his ears. A business scandal has cost him his income and his marriage to Nancy (Susan Sarandon). His ever-present lust for every passing attractive woman threatens to take what little Ben has left. Even his new relationship with Jordan (Mary-Louise Parker) oscillates with tension. When Ben takes Allyson to tour the school, his motives are more than mixed.
Solitary Man flirts with comedy, especially in its whip-smart dialogue and some great scenes between Douglas and Danny DeVito, who plays an old friend. But there is a darker current running through the story. Directors Brian Koppelman and David Levien previously co-wrote both Ocean's Thirteen and The Girlfriend Experience for Steven Soderbergh. They understand both the pleasures of entertainment and the contours of character. As the film probes deeper into Ben's compulsions, it becomes a character study. Why did he leave a wife as gorgeous and soulful as Nancy? What does he have to prove in befriending a young college geek (Jesse Eisenberg)? And when it comes to so many of his indiscretions, quite simply, how could he? Douglas has never been an Everyman on screen, but there are many men in their middle years who will identify with this character more than they'd care to admit. His is the id that never fades, even as the consequences mount.
Solitary Man hits limited theaters on May 7th 2010.