Red-Band Horror: Bloody Trailers For Survival Of The Dead And [REC] 2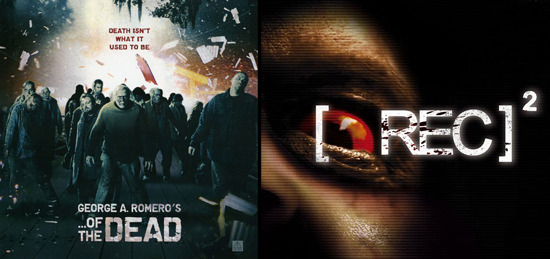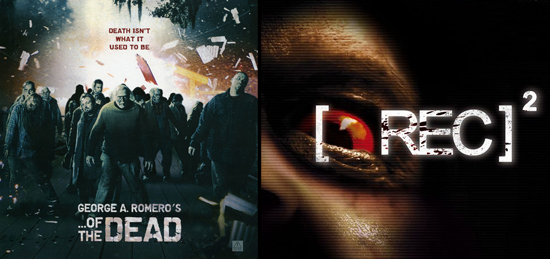 Yesterday I riled a few people up with a conversation about red-band trailers. (You guys like them; we get it.) Today we'll flip to the other side of the coin, as IGN has new bloody and restricted clips for George Romero's Survival of the Dead and a UK trailer for [REC] 2. Check both out after the break.
Romero introduces the trailer for Survival of the Dead as a small group of made-up zombies close in on him. There are a couple of good zombie kills here, too: the zippo guy at the end, and whatever is going on at 1:37, for instance.
But more appealing is the fact that this looks like a much-better constructed film than Diary of the Dead. I've seen better notes for this than for Diary (which had moments, but is indisputably weak) and even heard Survival called the best of Romero's latter 'Dead' trilogy. This is certainly a good trailer, as it sets up the 'us versus them' drama that is played out both between humans and zombies and between two rival families on an island.
Survival of the Dead is available on DVD in the UK now; the film hits video on demand in the US on April 30, then will appear in theaters starting on May 28.
Then there's the UK clip for [REC] 2, which isn't quite as excessively bloody, but is definitely full of corridor-crawling SWAT guys and more than a few bloody zombies with shattered faces.
Magnet will release the film to US theaters in early July, but it will bow at home via On Demand in June. (Not as part of the second Six-Shooter Film Series, FYI.) Here's the synopsis:
REC told the story of a quarantined apartment building infected with a ferocious virus that spread a terrifying form of demonic possession to the trapped inhabitants. REC 2 kicks off shortly after the events of the first film, when a medical officer and a SWAT team armed with video cameras are sent into the sealed off apartment building to try and neutralize the situation.