Peter Joins A Night Of 140 Tweets - Help Out A Good Cause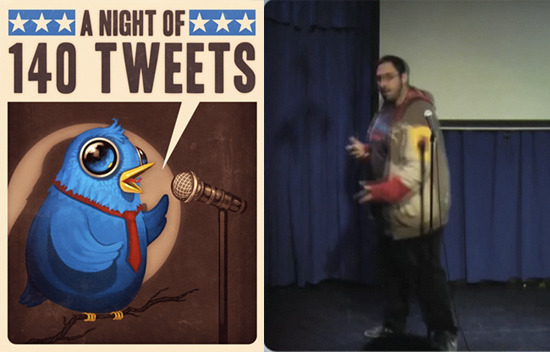 We may receive a commission on purchases made from links.
I was asked to participate in an awesome charity event called the Night of 140 Tweets. Paul Scheer and Rob Huebel put together a night at the Upright Citizens Brigade Theatre in Los Angeles. 140 actors, actresses, directors, producers, comedians, porn stars, and writers were invited to read one tweet, live on stage. It was pitched as a real life twitter stream.
Some of the people who performed a tweet include Sarah Silverman, Rainn Wilson, David Wain, Ben Stiller, Demi Moore, Ashton Kutcher, Diablo Cody, Bob Saget with John Stamos, Will Ferrell, Weird Al Yankovic, Damon Lindelof and Carlton Cuse, Justin Long, Ed Helms, Dane Cook, Jenny McCarthy, Samm Levine, Shannon Elizabeth, Nathan Fillion and Ben Stiller. Don't ask me how, but somehow I was also invited to share a tweet up on stage. Yes, the same stage with all of the incredibly talented and famous people listed above, and many more (full list after the jump).
Video of the event will be made available on Amazon and Apple iTunes (you can preorder now on Amazon), and all the proceeds from the sale of this video will go directly to Artists For Peace and Justice (artistsforpeaceandjustice.com) to build schools in Haiti with Architecture For Humanity (architectureforhumanity.org). The digital download is only $2.99, and the DVD copy is being sold for only $10.99. All the proceeds go to a very good cause, and I'm proud to have been part of the event. Check out the trailer after the jump.
The Trailer:
NIGHT OF 140 TWEETS is available NOW for
Pre-Sale on Amazon
(

as a digital download and special feature DVD

).
Hosted by Paul Scheer & Rob Huebel
and in order of appearance
Matt Besser??• Brett Gelman??• Rob Delaney??• Jon Daly??• Chad Carter??• Natasha Leggero??• Paul F Tompkins??• BJ Porter??• Nick Thune??• Whitney Cummings??• Michael Ian Black??• Eddie Peppitone??• Harris Wittels??• Paul Rust??• Ben Schwartz??• Alex Blagg??• Neil Campbell??• Katie Dippold??• Josh Fadem??• Brian Huskey • Alec Sulkin??• Scott Aukerman??• Sarah Silverman??• Ronna and Beverly ??• Rainn Wilson??• Brendon Walsh??• Joe Wengert ??• Jensen Karp??• Chantal Claret??• Freddie Gibbs ??• Dave Holmes??• Rob Riggle??• John Ross Bowie ??• Greg Fitzsimmons??• Samantha Ronson??• Andrew Donnelly??• Dave Foley??• Tom Lennon??• Kerri Kenney??• Michael Schur??• Alan Yang??• Damien Fahey??• Doug Lussenhop??• Michael Hitchcock??• Dragon Boy Suede??• Paul Feig??• David Wain??• Dragon Boy Suede??• Casey Wilson ??• Ben Stiller??• Jason Woliner??• Dana Gould??• Jackie Clarke??• Greg Behrendt??• Chelsea Peretti??• Dan Harmon??• Rob Schrab• Demi Moore ??• Ashton Kutcher ?• Brian Posehn??• Wilmer Valderrama??• Diablo Cody??• Liz Meriwether??• Jordan Rubin??• Bob Saget with John Stamos??• Jeffrey Ross??• Neil Mahoney??• Jen Kirkman??• Stephanie Pratt??• Kelly Oxford??• Jordan Rubin??• June Diane Raphael ??• Sasha Grey • Adam Scott ??• Martin Starr??• Todee from Yo Gabba Gabba ??• Will Ferrell ??• Owen Burke??• Weird Al Yankovic??• Ilan Hall??• Ethan Suplee??• Damon Lindelof??• Carlton Cuse??• James Gunn??• Mary Lynn Rasjkub??• Steve Agee??• John Cho ??• Jarrad Paul??• Justin Long ??• Ed Helms ??• Mindy Kaling??• Brea Grant??• Mary Lynn Rasjkub??• Nick Kroll??• Lake Bell??• Ellie Kemper ??• Rich Sommer??• Peter Sciretta ??• Muno (Yo Gabba Gabba)??• James Urbaniak??• Rob McElhenney ??• Kaitlin Olsen ??• Glenn Howerton??• Charlie Day??• Deanna Russo??• Nia Vardalos??• Ian Gomez??• Neil Brennan ?• Michael Colton??• John Aboud??• Dane Cook??• Jenny McCarthy??• Janina Gavankar??• Samm Levine??• Shannon Elizabeth??• Matt Walsh??• Morgan Walsh??• Chris Romano ??• Andy Milonakis??• ArdenMyrin??• Will Sasso??• Garfunkel & Oates??• Dan Levy??• Daryl Wright ??• Mike Phirman??• Kyle Kinane??• Jordan Morris??• Jesse Thorn??• Kulap Vilaysack??• Kevin Seccia ??• Ariel Schrag??• Colton Dunn??• Adam Pally??• Curtis Gwinn??• Eric Appel??• Chris Kula??• Gil Ozeri??• Aaron Bleyaert??• Mike Mitchell??• Eric Filipkowski??• Caprice Crane??• Tricia McAlpin??• Eugene Cordero??• Matt Braunger??• Aziz Ansari??• Nathan Fillion??• Busy Philipps??• Aubrey Plaza??• Mike Rosenstein * Emily Maya Mills??• Codi Fisher ??• Joanna Angel? * Cameron Sinclair & Ben Stiller
\w/ Video Appearances by....
Rob Corddry – Joe Mande – Adam Lisagour – Chris Hardwick- Jonah Ray – Michael Showalter – Dave Ferguson – QuestLove – Jon La Joie – Andy Cohen – Abby Elliot – Jake Fogelnest – Tom Scharpling – Eugene Mirman -Hannibal Buress – Olivia Munn – Har Mar Superstar –  Kevin Pollack- Caissie St. Onge, Jon Glaser and Kevin Smith
NIGHT OF 140 TWEETS: A Celebrity Tweet-A-Thon
Produced/Directed by Mike Rosenstein
Executive Produced by Rob Huebel and Paul Scheer
Live Show Stage Managed & Coordinated by Susan Hale, Emily Maya Mills and Codi Fisher.