Final Poster For Prince Of Persia: Sands Of Time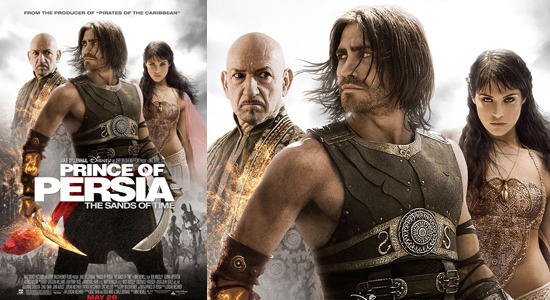 Walt Disney Pictures has premiered the final movie poster for the big screen adaptation of Prince of Persia: Sands of Time on UGO. The poster features Jake Gyllenhaal as the rogue Prince Dastan, Gemma Arterton as the mysterious princess Tamina and Ben Kingsley as Nizam. Click the link to see the poster in larger resolution.
Official Plot Synopsis:
From the team that brought the "Pirates of the Caribbean" trilogy to the big screen, Walt Disney Pictures and Jerry Bruckheimer Films present PRINCE OF PERSIA: THE SANDS OF TIME, an epic action-adventure set in the mystical lands of Persia. A rogue prince (JAKE GYLLENHAAL) reluctantly joins forces with a mysterious princess (GEMMA ARTERTON) and together, they race against dark forces to safeguard an ancient dagger capable of releasing the Sands of Time—a gift from the gods that can reverse time and allow its possessor to rule the world. Directed by Mike Newell ("Harry Potter and the Goblet of Fire") with a cast that includes SIR BEN KINGSLEY and ALFRED MOLINA, and a screenplay by Boaz Yakin and Doug Miro & Carlo Bernard from a screen story by Jordan Mechner. PRINCE OF PERSIA: THE SANDS OF TIME hits theaters Memorial Day Weekend, 2010.