Meet The New Toy Story 3 Characters: Trixie And Stretch

As you may have noticed over the past weeks, Disney has been teasing the release of Pixar's Toy Story 3 by releasing more information, photos and video of each of the new characters, week by week. A couple weeks ago, we premiered an exclusive look at one of the new toys from the daycare center – Twitch.
Disney/Pixar has since released two new characters – Trixie and Stretch. After the jump you can see a large photos of Trixie and Stretch, learn some information about the new toys, and even watch video turnarounds. We've also included a round up of the other five new toys (seven total revealed thus far), in case you've missed anything along the way.
TRIXIE
Trixie, the loveable Triceratops is voiced by Flight of the Conchords' Kristen Schaal.
"Trixie is a perfect playmate for prehistoric playtime! Visit the era when dinosaurs ruled the Earth! Made of rigid, durable plastic and in friendly shades of blue and purple, Trixie features an expressive mouth and movable legs. This gentle Triceratops will feed any child's imagination. Also available: Tyrannosaurus Rex, Stegosaurus and Velociraptor."
STRETCH
The following one comes from animate: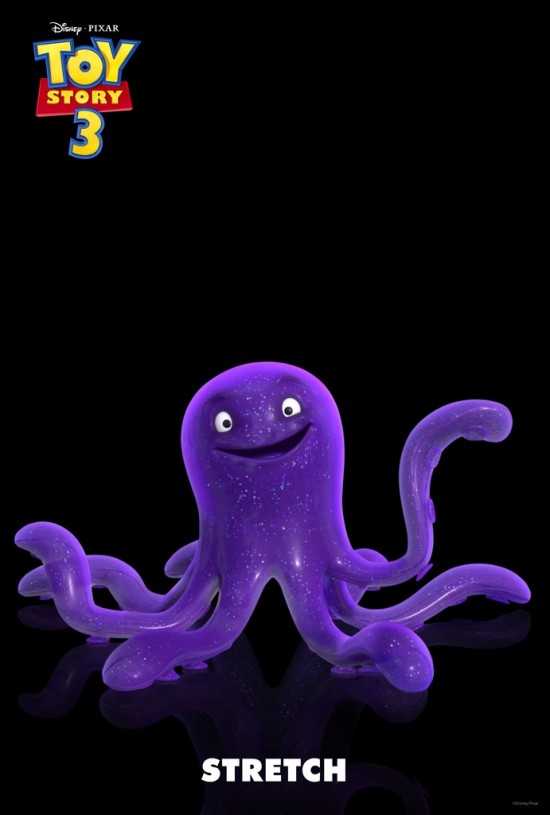 Stretch will be voiced by Whoopi Goldberg.
Strech is a fun-loving under-the-sea octopus friend that shines in glittery purple. Kids can count her eight rubbery legs and dozens of sticky suckers that are sure to stand up to rough-and-tumble play and extreme stretching. Toss her high on the wall and watch her climb her way down! Clean in mild soap solution to remove dust and lint.
You can see the previously featured new Toy Story 3 characters below:
TWITCH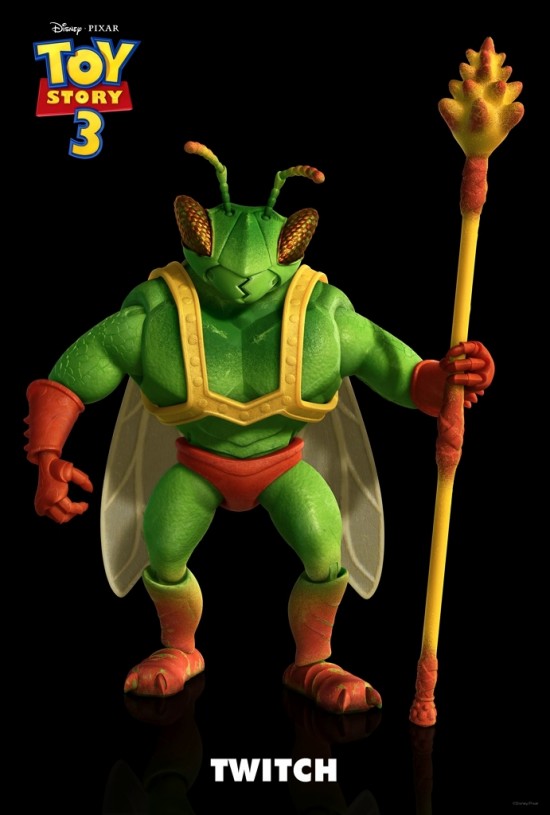 He definitely looks like an old He-Man or Ninja Turtle action figure.
Meet Twitch, the insectaloid warrior, where MAN + INSECT = AWESOME! This sturdy action figure stands over five inches tall, with more than 15 points of articulation, including ferocious chomping mandibles. Use his powerful wings and impenetrable exoskeleton to evade capture! Twitch is meticulously detailed and includes his signature magical battle staff and removable chest armor. For children ages 4 and up. Other insectaloid figures sold separately.
[flv:http://wdmp.rd.llnwd.net/wdsmp/TS3/CT/Twitch/REV/TS3_Twitch_V5_REV_3_1_10_High.flv 550 310]
KEN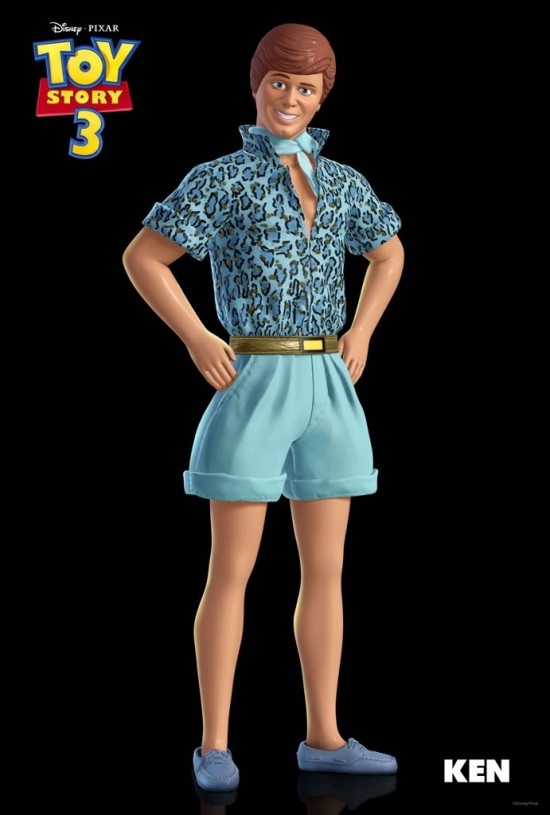 Grab your binoculars and join Ken on a safari! A swinging bachelor who's always on the lookout for fun, Ken sports the perfect outfit for his eco-adventure: light blue shorts and a leopard-print shirt with short sleeves sure to keep him cool in the hot sun. And after his exciting expedition, Ken will be ready to hit the dance floor in style. His accessories include matching scarf, sensible loafers and a fashion-forward gold belt. Dozens of additional Ken outfits sold separately.
[flv:http://wdmp.rd.llnwd.net/wdsmp/TS3/CharacterTurns/TS3_KENV5_HDD_High.flv 550 310]
PEAS-IN-A-POD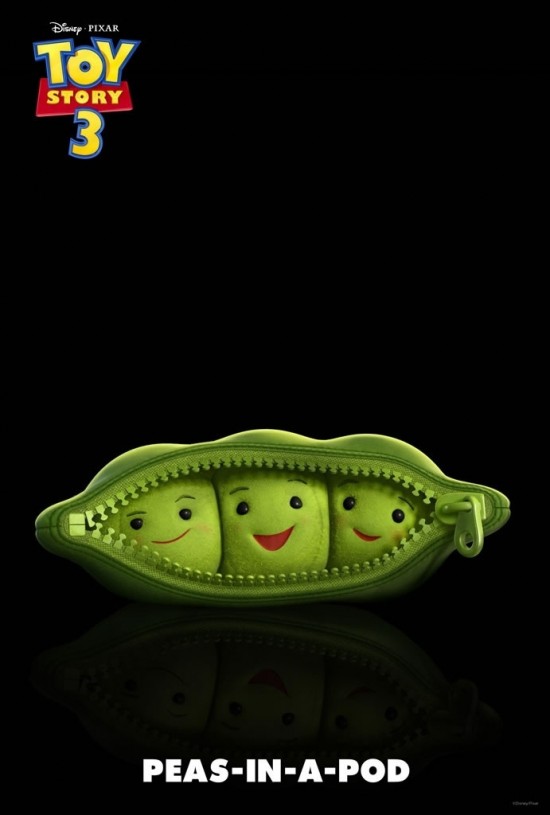 Peas-in-a-Pod will quickly become a parent's favorite on-the-go toy. The soft, plush pod secures the happy peas inside with a durable metal zipper, making it perfect for the car or stroller. The Peas-in-a-Pod plush toy also develops fine motor skills by catering to a child's natural grab instinct. Pulling the three peas out of the pod will provide repeated enjoyment for infants and toddlers, and soon they'll learn to put them back in! Machine washable. Not for human consumption.
[flv:http://wdmp.rd.llnwd.net/wdsmp/TS3/CharacterTurns/TS3_PEASinaPODV5_HDD_High.flv 550 310]
LOTS-O'-HUGGIN' BEAR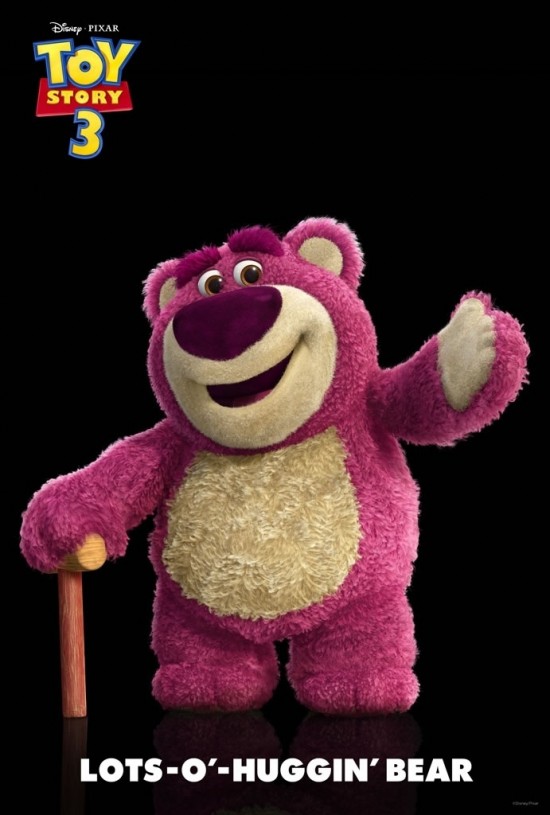 Lots-o'-Huggin' Bear is a jumbo, extra-soft teddy bear with a pink and white plush body and a velvety purple nose. This lovable bear stands fuzzy heads and shoulders above other teddy bears because he smells like sweet strawberries! With a smile that will light up your child's face and a belly just asking to be hugged, Lots-o'-Huggin' Bear is sure to become a bedtime necessity. Stain-resistant. Spot clean plush surface with a damp cloth.
[flv:http://wdmp.rd.llnwd.net/wdsmp/TS3/CharacterTurns/TS3_LotsoV5_HDD_High.flv 550 310]
BUTTERCUP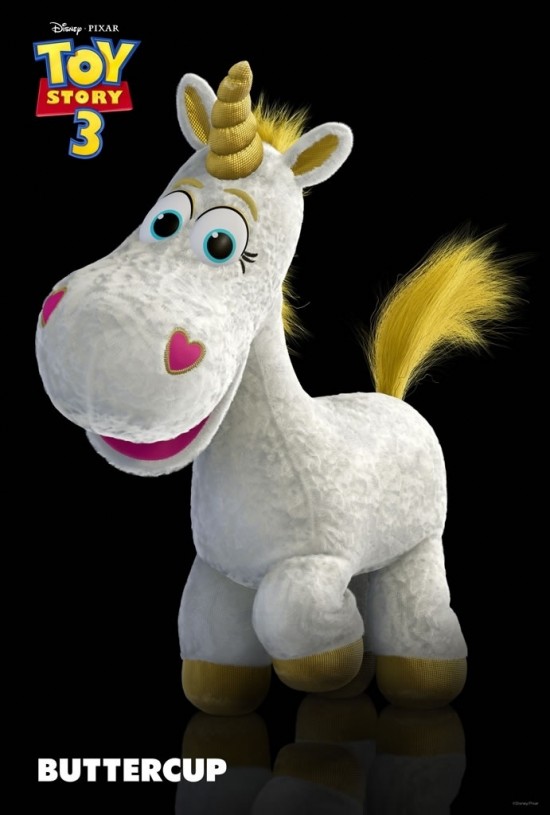 Saddle up for fun and let Buttercup lead your child away on a magical adventure! This cuddly unicorn features velvety-soft, snow-colored fur with sparkly gold and pink accents. He sports a signature mythical golden horn and a fun-to-comb mane and tail. Buttercup's durable plastic eyes are both charming and scratch-resistant. Hypo-allergenic. Ages 3 and up.
[flv:http://wdmp.rd.llnwd.net/wdsmp/ToyStory3/Turns/Buttercup_v5_High.flv 550 310]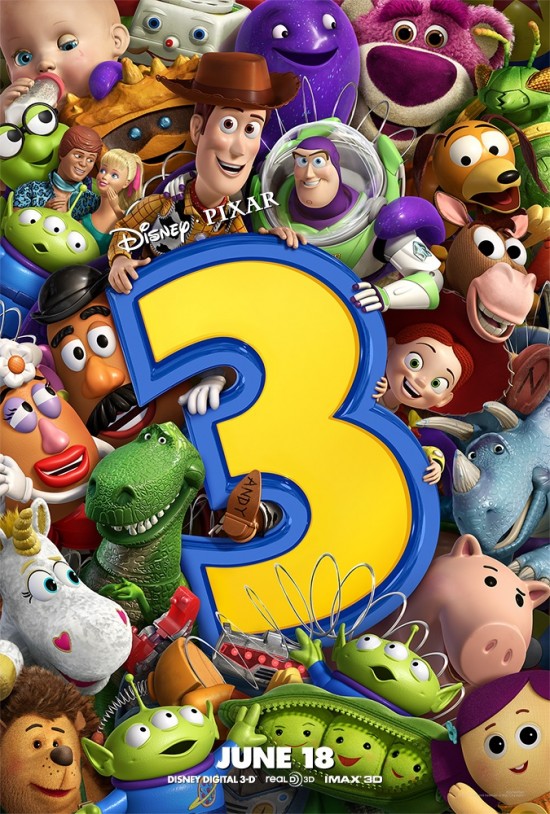 Official One-Pager:
TOY STORY 3 (In Disney Digital 3D™)
DISNEY•PIXAR
Genre:    Animation/Comedy/Adventure
Rating:    TBD
Release Date:            June 18, 2010
Voice Talent:    Tom Hanks, Tim Allen, Joan Cusack, Don Rickles, Wallace Shawn, John Ratzenberger, Estelle Harris, John Morris, Laurie Metcalf, R. Lee Ermey, Jodi Benson, Ned Beatty, Bonnie Hunt, Timothy Dalton, Jeff Garlin, Whoopi Goldberg and Michael Keaton
Director:            Lee Unkrich
Producer:            Darla K. Anderson
Writer:                credit TBD
Composer:            Randy Newman
The creators of the beloved "Toy Story" films re-open the toy box and bring moviegoers back to the delightful world of Woody, Buzz and our favorite gang of toy characters in TOY STORY 3. Woody and Buzz had accepted that their owner Andy would grow up someday, but what happens when that day arrives? In the third installment, Andy is preparing to depart for college, leaving his loyal toys troubled about their uncertain future. Lee Unkrich (co-director of "Toy Story 2" and "Finding Nemo") directs this highly anticipated film, and Michael Arndt, the Academy Award®-winning screenwriter of "Little Miss Sunshine," brings his unique talents and comedic sensibilities to the proceedings. TOY STORY 3 will be presented in Disney Digital 3D™ in select theaters.
Notes:
TOY STORY 3 follows the return of Disney?Pixar's "Toy Story" and "Toy Story 2" to the big screen Oct. 2, 2009—this time as a Disney Digital 3D™ double-feature.
Director Lee Unkrich began at Pixar Animation Studios in 1994 as a film editor on "Toy Story" and continued on to "A Bug's Life" as the supervising film editor. He made his directing debut in 1999 as co-director of the Golden Globe®-winning "Toy Story 2."  Unkrich co-directed "Monsters, Inc." and served as co-director and supervising film editor of the Oscar®-winning animated feature "Finding Nemo."
The original "Toy Story" voice cast is set to return in TOY STORY 3, including John Ratzenberger (voice of Hamm), who is the only actor to voice a character in all 11 Disney•Pixar films. Also returning is Oscar®-winning songwriter and composer Randy Newman ("Toy Story," "Toy Story 2," "Monsters, Inc.").
"Toy Story," originally released on Nov. 22, 1995, was the first fully computer animated feature film and the highest grossing movie of the year with nearly $192 million domestically and $362 million worldwide. It was nominated for three Oscars® and two Golden Globes®.
"Toy Story" director John Lasseter was awarded a Special Achievement Award (Oscar®) by the Academy of Motion Picture Arts and Sciences for his "inspired leadership of the Pixar 'Toy Story' team, resulting in the first feature-length computer-animated film."
"Toy Story 2" is the first film ever to be entirely created, mastered and exhibited digitally. It was also the first animated sequel to gross more than its original, breaking opening weekend box office records in the U.S., UK and Japan, becoming the highest grossing animated release of 1999 with more than $245 million in domestic box office receipts and $485 million worldwide.  It was nominated for an Academy Award® and two Golden Globes®, winning the Golden Globe for Best Motion Picture/Comedy Musical. It won a Grammy® for Best Song Written for a Motion Picture, Television or other Visual Media (Randy Newman, "When She Loved Me").
The creators of the beloved "Toy Story" films re-open the toy box with TOY STORY 3, a comedic and heartwarming adventure in Disney Digital 3D™, bringing moviegoers back to the world of Woody, Buzz and our favorite gang of toy characters as Andy prepares to leave for college.