The Flaming Lips Prep New Movie, Angling For Many Guest Stars Including Justin Timberlake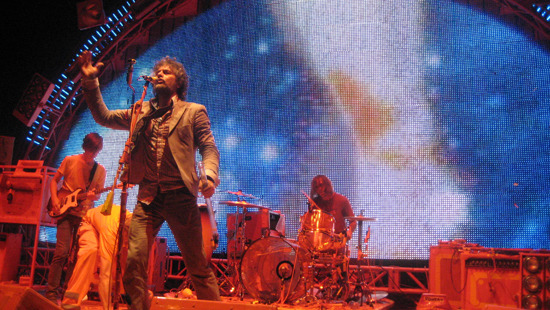 Over a period that spanned many years, Wayne Coyne and his compatriots in The Flaming Lips made a movie called Christmas on Mars. The film is a weird psychedelic adventure that isn't for all tastes, but you have to respect it for at least one thing: Coyne wanted to make a movie, and proceeded to collect junk that he turned into sets in his back yard. Christmas on Mars was born of a simple desire to make a movie, and Coyne saw it through.
Now he says that there is another film planned, and that he wants to recruit a load of famous guest stars. First target: Justin Timberlake.
Billboard spoke with Coyne about the project, which, like Mars, will mostly be shot at his home in Oklahoma City. (Granted, his home is kind of amazing.) Other members of the band as well as friends and family will crew the film and appear in it.
"I'm gonna try to get real actors, too," Coyne says, "celebrities to show up and have fun with us for a couple of nights. I'm in the process of begging Justin Timberlake to be part of it; if I'm lucky I'll be able to wear him down in another year."
Though Coyne and Lips bandmate and multi-instrumentalist Steven Drozd have already started writing music for the film, there isn't yet a title. Or, at least, one that has been revealed. What we do know is that it will be a bit more down to earth than Christmas on Mars.
My only goal was that I didn't have to build space station-looking sets every time I wanted to have someone say something. Only because I built those sets myself every time we shot something for 'Christmas on Mars' over the seven years we took to make it. This one is set in someone's house and in a back yard and in a slaughterhouse; all those are available to me right here, so I don't have to build everything this time.