Up In The Air Deleted Scene: Ryan Bingham Goes To Space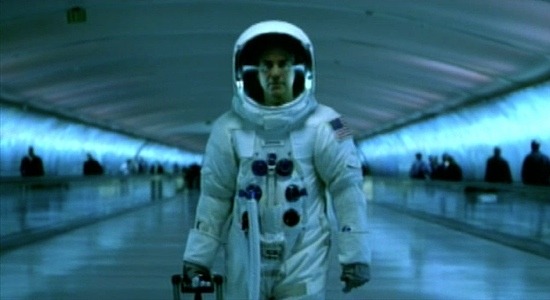 We may receive a commission on purchases made from links.
During the filming of Jason Reitman's Up in the Air, I saw a set photo where George Clooney was dressed in a full-on NASA space suit, walking in an airport. That scene didn't make the final film, and I've always wondered what it was about, and where it fit. Up in the Air hits DVD and Blu-Ray on March 9th (On Amazon: $27 for Blu-ray, $17 on DVD), and we've been given a look at the deleted scene in question, in which Ryan Bingham goes about his disconnected routine in a spacesuit. You can watch it now, embedded after the jump. Of course, I wouldn't recommend watching the clip unless you've already seen the film, as the deleted scene in question was to be set late in the film.
[flv:http://media2.slashfilm.com/slashfilm/trailers/UpInTheAir_OnlineClipReel_Clip4_Spacesuit_QT.flv 550 412]
I actually really dig the segment on its own, but I can see how it would have felt too on the nose at that point in the film.
Here is information on the home video release:
UP IN THE AIR DVD & Blu-ray
The UP IN THE AIR DVD is presented in widescreen enhanced for 16:9 TVs with Dolby Digital English 5.1 Surround, French 5.1 Surround and Spanish 5.1 Surround and English, French and Spanish subtitles. The Blu-ray disc is presented in 1080p high definition with English 5.1 DTS-HD Master Audio, French 5.1 Dolby Digital, Spanish 5.1 Dolby Digital and Brazilian Portuguese 5.1 Dolby Digital and English, English SDH, French, Spanish and Brazilian Portuguese subtitles. The DVD includes the following special features:
* Commentary by writer/director Jason Reitman, director of photography Eric Steelberg and first assistant director
* Shadowplay: Before The Story
* Deleted Scenes with Optional Commentary by Jason Reitman
o To Know Me Is To Fly With Me
o Real People Firing and Irate Employee
o Thumper and Extended Boat Scene
The Blu-ray includes all of the above in high definition, plus:
* Deleted Scenes with Optional Commentary by Jason Reitman (HD)
o Do You Live At The Hilton?
o Maynard Finch Commercial/Kara Calls Ryan
o Barely Squeaking By/Natalie Calls
* "Help Yourself" music video by Sad Brad (HD)
* American Airlines Prank (HD)