HBO Greenlights Game Of Thrones Series, Signs Precious Director Lee Daniels To Develop A New Show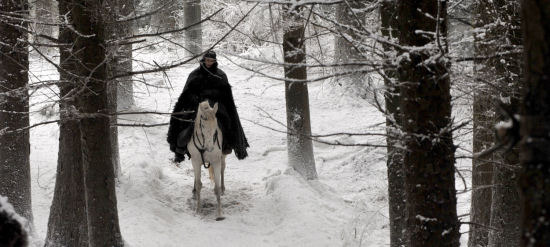 I've had people tell me to read George R.R. Martin's fantasy series A Song of Ice and Fire for years, but I've never been terribly interested. I'm much more taken with the idea of HBO's television production Game of Thrones, based on the first book in the series, primarily because of the talent involved. (That's the first still from the pilot, above.) Now with the pilot completed, HBO has greenlit a first season for the show.
Thomas McCarthy (The Station Agent, The Visitor) directed the pilot based on a script by David Benioff (who will produce the series) and D.B. Weiss. Sean Bean, Peter Dinklage, Iain Glen, Lena Headey and many more appear in the pilot, which sets up a massive story "set in the mythical land of Westeros [which] tells the story of the noble Stark family, who become caught up in high court intrigue when patriarch Eddard (Sean Bean) becomes the king's new right-hand man."
Nine episodes have been ordered, with filming to commence in Belfast in June. The series will premiere in spring 2011. The idea is to do one season based on each book in the series, though Martin has only published the first four novels of a planned seven. A Feast for Crows, the last to see release, hit shelves in 2005. [THR]
Meanwhile, another show that has been brewing at HBO has attracted some talent. Lee Daniels, the director behind Precious and Monster's Ball, is working with author Amy Bloom on an as-yet untitled series that will focus on "a multigenerational, multiracial family in Philadelphia." I'm not a big fan of Daneils' directorial style, but there's no question that he's yet another feather in HBO's cap. [Variety]
Here's the full image from the Game of Thrones pilot: