Burton And Bekmambetov Team Up To Produce Abraham Lincoln: Vampire Hunter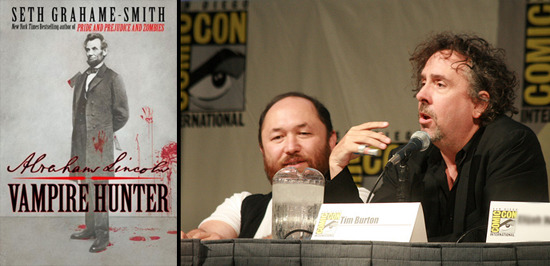 Tim Burton and Timur Bekmambetov, who together produced the animated film 9, are teaming up again to produce what could be a far more outrageous project: they'll shepherd an adaption of the novel Abraham Lincoln: Vampire Hunter by Seth Grahame-Smith, author of Pride and Prejudice and Zombies.Screen Daily reports the deal, but doesn't have much additional detail. Grahame-Smith will adapt the screenplay from his own novel. Interesting choice, as when an author adapts his own work for the screen there's always a chance that he won't be able to get any distance from the material. That can make paring down the text a problematic enterprise. Then again, who better to get inside the material than the creator?
Will either Burton or Bekmambetov direct? Unlikely; expect to hear news on a hire in the coming months.
Here's the Publisher's Weekly blurb recapping the book:
Seth Grahame-Smith inserts a grandiose and gratuitous struggle with vampires into Abraham Lincoln's life. Lincoln learns at an early age that his mother was killed by a supernatural predator. This provokes his bloody but curiously undocumented lifelong vendetta against vampires and their slave-owning allies. The author's decision to reduce slavery to a mere contrivance of the vampires is unfortunate bordering on repellent, but at least it does distract the reader from the central question of why the president never saw fit to inform the public of the supernatural menace.
A promo trailer for the novel just hit earlier this week, and is pretty entertaining. Don't expect it looks anything like what we can expect to see from the Burton/Bekmambetov combo, but it does have sharp teeth and some 19th-century bullet time, for what it's worth.
(Meanwhile, in reporting this story DHD mentions that David O. Russell is still circling Pride and Prejudice and Zombies as a possible project. That news first bubbled up in December and sounds just as weird now as it did then. Not that I'm upset about it; merely a bit confused. Now can we see a cut of Nailed, already?)