Christina Applegate And Alyssa Milano Join The Farrellys' Hall Pass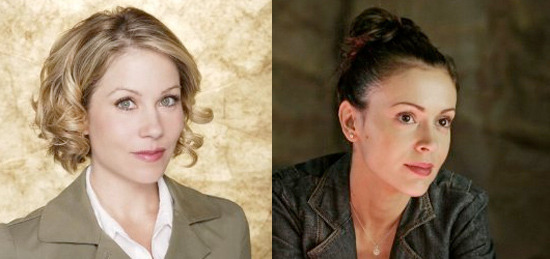 Christina Applegate (Anchorman), Alyssa Milano ("My Name is Earl"), Larry Campbell (Wedding Crashers) and Vanessa Angel (Kingpin) are the latest batch of actors and actresses to be announced for the Farrelly Brothers' comedy Hall Pass, which began shooting this week in Atlanta. (With Atlanta standing in for New England.) They join the already announced cast of Owen Wilson, Jenna Fischer, Amanda Bynes, Jason Sudeikis, Stephen Merchant and J.B. Smoove.
Previously:
Wilson stars as Rick, a husband in a dull marriage whose wife gives him a 'hall pass' — ie a license to engage in a week's worth of extra-marital affairs. Sudeikis co-stars as Wilson's best friend, who also gets a pass to get whatever ass he can.
Stephen Merchant and J.B. Smoove play friends of Rick (Wilson) and Fred (Sudeikis) who "accompany them as they cut loose and attempt to cash their tickets."
Hall Pass was written by Pete Jones as a spec, then rewritten by Kevin Barnett and Peter and Bobby Farrelly.
New Line picked up the film after Fox put it in turnaround
It sounds like a comedy in line with the tame recent work of the filmmaking brothers rather than the broad, over the top stuff that made them popular in the first place.
source: THR