Ultimate Spider-Man Writer Brian Bendis Consulting Spider-Man Reboot?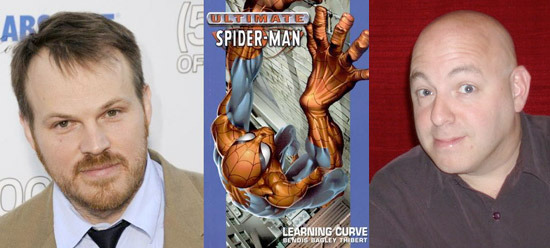 Brian Bendis is a well known, well respected bestselling comic author. He has won critical acclaim including five Eisner Awards (the comic equivalent of the Oscar), and remains one of the most successful writers working in mainstream comics. Bendis was behind the Spider-Man comic book reboot, Ultimate Spider-Man, which he continues to write ten-years and 130-something issues later. Could Bendis be consulting on the upcoming 3D Spider-Man reboot?Latino Review noticed that Bendis tweeted on January 11th responding to fan questions about the film:
i work as a consultant on the marvel movies. this is a sony movie. i have no involvement. but maybe if you all scream loud enough
And earlier today Bendis tweeted:
Just spent a very interesting morning at Sony with the entire spidey movie team!! Very very cool stuff!!
Looks like Bendis might've been consulting Webb, screenwriter James Vanderbilt, and team on the new big screen reboot. It shouldn't be that much of a surprise as the (500) Days of Summer director told MTV in January that he is a big fan of the Stan Lee material, but he "love(s) the 'Ultimate [Spider-Man]' stuff."