Vacation Rebooted: Rusty Griswold Will Return To Wally World Before It Closes FOREVER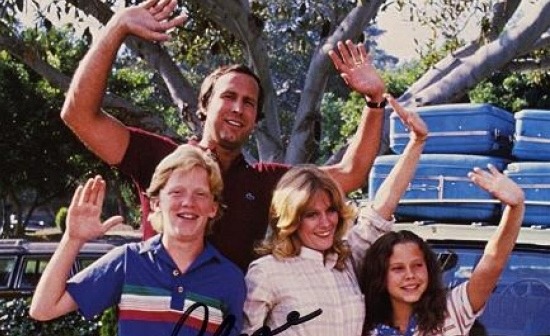 You might recall that back in October we told you that New Line/Warner Bros had signed Wedding Crashers and Fred Claus director David Dobkin to produce and possibly direct a new film in the National Lampoon's Vacation series which would follow Rusty Griswold, the son of Clark Griswold, who is now a father in his own right and takes his family on a, you guessed it, road trip vacation. Then came that the Super Bowl Commercial/Mini Movie (which can be watched here), which while it wasn't nearly as good as any of the films (not even Vegas Vacation), garnered a lot of attention. Enough attention to convince New Line to order a screenplay for this new adventure.
Variety is reporting that Jonathan Goldstein and John Francis Dale have been hired to pen the new movie, which won't be released with the National Lampoon credit. Some new story details were also revealed, such as the location of Rusty's road trip vacation. You guessed it – Wally World, the fictional amusement park that was the finale of the original film. In this new movie, Wally World is closing forever, and Rusty wants to bring his family to the park before it is gone for good. As you might expect, the park and that one summer vacation meant a lot to him. New Line/WB hopes to sign Chevy Chase and Beverly D'Angelo to return as grandparents in the new film, no deals are in place.
The screenwriting duo come from television where they worked on a bunch of different shows before settling on  The New Adventures of Old Christine. In 2007 they sold their feature spec script The $40,000 Man to New Line, and have since enjoyed a relationship with the studio handling writing assignments, none of which has entered production.
It is unlikely that any of the original Griswold child actors will return for the new film, since Rusty and Audrey have been played by a different set of actors in each film. This fact is actually made into a joke in Vegas Vacation when Clark tells his children that he "hardly recognizes" them anymore. It has been described as being closer in tone to Planes, Trains and Automobiles and Little Miss Sunshine than RV or Are We There Yet? (thank God).
It's hard to complain about another sequel since this franchise has already been milked to death. It's not like this film could ever hurt the series' legacy, at least not any more than Christmas Vacation 2: Cousin Eddie's Island Adventure (which is one of the worst films I've ever seen... ever). Christmas Vacation is one of the few third films in a movie series that ended up surpassing the sequel, European Vacation, by leaps and bounds. The 1997 film Vegas Vacation wasn't horrible, but also wasn't on the same level as either Vacation or Christmas Vacation. Warner Bros is looking at this new installment as more of an update than a sequel, but the sequel elements will obviously be there.
Is this such a bad idea? Would it be fun to return to Wally World with a new generation of Griswolds?