Battleship And Stretch Armstrong Move To 2012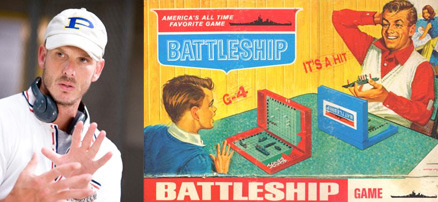 Earlier tonight, news broke that Twilight star Taylor Lautner had signed on to play the title character in the upcoming 3-D superhero adventure Stretch Armstrong. What we didn't know at the time is that the announcement coincides with a release date shift for Hasbro's big screen adaptations.
The "epic action-adventure" film Battleship will now hit theaters on Memorial Day weekend — May 25th 2012, while Stretch Armstrong has also been moved back to a To be announced 2012 release as well. Battleship was originally set to hit theaters on August 5th 2011, and Armstrong was originally announced with an April 11th 2011 release. You can read the press release from Universal/Hasbro that explains the reasons behind the schedule changes after the jump.
"Universal has put all the elements in place to successfully launch two of our classic Hasbro brands on the big screen," said Brian Goldner, President and CEO of Hasbro, Inc.  "The addition of Taylor Lautner and the 3-D twist to Stretch Armstrong, in addition to giving Pete Berg and the filmmakers the extra time and resources to make Battleship an even bigger summer blockbuster, is sure to pay dividends when the film is released in 2012."
Peter Berg (Hancock, The Kingdom) came aboard in Fall 2009 to produce and direct Battleship, which will unfold as a massive Naval adventure across the seas, in the skies and over land as our planet fights for survival against a superior force.  Originally slated for release in July 2011, the film was moved to give it the time and resources to thoroughly realize its huge-scale ambitions and position it for Memorial Day weekend in 2012.  Scott Stuber (The Wolfman, Couples Retreat) is producing Battleship through his Universal-based Stuber Pictures, and Sarah Aubrey (The Kingdom, upcoming Dune) is producing with Berg for Film 44.  Brian Goldner and Bennet Schneir are producing for Hasbro.
"We believe in Pete Berg and the incredible vision that he and the Battleship team have for this film," said Fogelson.  "We're honored that Hasbro is partnering with us to turn one of its landmark properties into a huge summer box-office hit."
Stretch Armstrong is moving to 2012 to allot time to shape the project into a 3-D superhero adventure and to accommodate Lautner's existing commitments.