Sundance Interview: Michael Winterbottom And Mat Whitecross, Co-Directors Of The Shock Doctrine And The Road To Guantanamo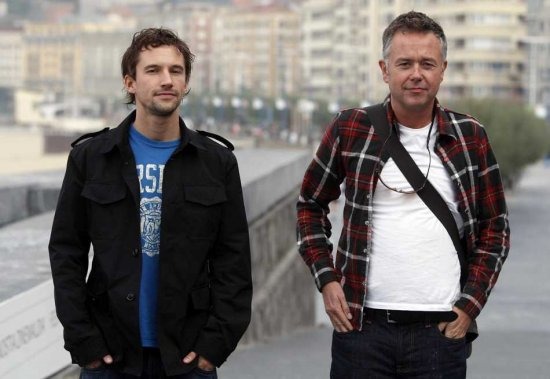 Directors Michael Winterbottom and Mat Whitecross are premiering a new documentary at Sundance 2010 called The Shock Doctrine, based on the best-selling book by author Naomi Klein. The film posits that governments have used periods of crisis, or "shock," in order to foist Milton Friedman's free-market ideologies onto the people, often to negative consequences (e.g. poverty, an expanding class gap, etc.). It's an interesting way to view world history, and if you're not yet familiar with Klein or her theories, I think you'll find it fascinating (although people not terribly interested in history may find it a bit dry). Winterbottom and Whitecross previously collaborated on the excellent film, The Road to Guantanamo, documenting the imprisonment and torture of three Guantanamo detainees. And, as I've previously mentioned, Winterbottom is one of the most interesting filmmakers around.
Almost as interesting as the film is its distribution method. The Shock Doctrine is one of the films available on video on demand right now via the Sundance Selects  program. In this interview, I talk with Winterbottom and Whitecross about the film's release strategy, the difficulties of using archival footage, and the lessons of The Shock Doctrine. I also manage to sneak in a few questions about Winterbottom's controversial new film, The Killer Inside Me.
You can download this interview (right-click and "Save As") or play it right now in your browser:
Subscribe to the /Filmcast to receive all audio interviews (and more):