Reader Review: Hot Tub Time Machine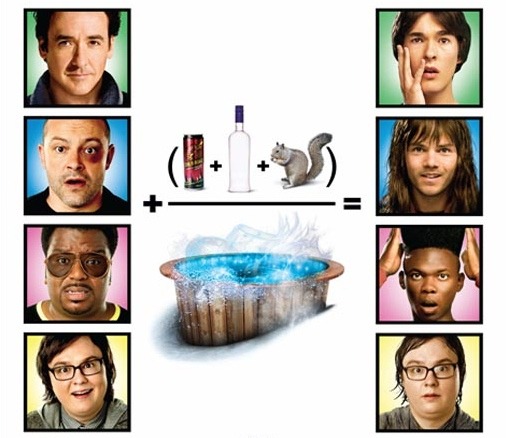 /Film reader Film Savior screened Hot Tub Time Machine, and while the comedy won't hit theaters until March 19th, he sent us a reader review. Savior calls it "hilarious, retarded, nonsensical, thoughtful, a waste of time, and great entertainment all at the same time." You can read the entire virtually spoiler-free reader submitted review, after the jump.
Context: I'm not sure if Film Savior screened a final cut of the film (probably not the case). So please understand that the cut of the film screened could change drastically (probably won't, but you never know...), and might not resemble the final cut of the film. Here is Film Savior's reader review:
Hi Guys,Long time reader of /Film. Thanks for great entertainment. After seeing the two redband trailers for Hot Tub Time Machine released over the past few weeks, I had restrained expectations. You see, the number one problem this film is going to have is the comparison to The Hangover.John Cusack character = Bradley Cooper character (the normal, "cool" guy)Craig Robinson character = Ed Helms character (a slave to their wife)Rob Corddry character = Zak Galifianakis character (steals every scene)Clarke Duke character – Justin Bartha character (reacts to the other characters only; forgettable)This is no Hangover. But it has some hilarious moments that would be worth the price of matinee. I'm not going to spoil anything since it doesn't come out until March. So I'll just give you the Good, the Bad, and the Ugly.The Good:*Rob Corddry finally gets his time to really shine and man does he take it by the balls. Much like Zack G., he steals every scene that he's in. Wait until you see what happens when he loses a bet. Wow.*Crispin Glover as the Doorman. The running joke with Glover is hilarious and never gets old. He's always fantastic and seems to be having a great time with this.*The title. Best title of any film in years. Gets straight to the retarded point.The Bad:*Chevy Chase tried but did not get one laugh from the audience. He was painful to watch. If he wasn't such an essential character (well, kind of essential), I'd recommend cutting him out of the film outright. R.I.P. Chevy.*The story. It's a comedy, so no reason to get into time travel logistics. We'll leave that for Lost final season. But they really could have built on more of the 80's vs. present day time travel a bit more. The 80's are great to make fun of. It wasn't done enough.The Ugly:*Don't expect too much from this film, but there are some really hilarious moments. The middle loses a bit of steam, but really picks up towards a rewarding ending. This is definitely a guy movie, even more so than The Hangover. Craig Robinson, Rob Corddry, and Crispin Glover were amazing. Cusack had his moments and Clarke Duke wasn't given much to work with.When you see this movie, you'll realize why this quick review is all over the place. It's hilarious, retarded, nonsensical, thoughtful, a waste of time, and great entertainment all at the same time. Chew on that.If you use this, you can call me Film Savior. Check out my film blog at www.filmsavior.com Keep up the great work!