This Week In DVD & Blu-Ray: Surrogates, Whip It, Saw VI, This Is It, And More
This Week in DVD & Blu-ray is a column that compiles all the latest info regarding new DVD and Blu-ray releases, sales, and exclusive deals from stores including Target, Best Buy and Fry's.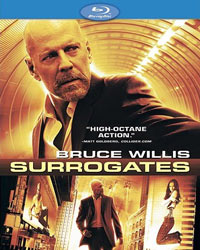 SURROGATES
It's bad, no question. But bad doesn't necessarily mean unwatchable. At a scant 88 minutes, Surrogates doesn't linger on a single idea long enough to be boring. Swap out "boring" with "interesting", and the same point stands. There was undeniably potential here for a vastly better film, one which more creatively explores this world and more thoughtfully examines the many questions that Surrogates only touches on before rushing to hit the next derivative action movie beat. If you're willing to accept that the movie isn't going to do that, it should suffice as cheesily enjoyable formula trash. Hopefully you liked I, Robot, because it's pretty much the same movie.
Available on Blu-ray? Yes.
Notable Extras: DVD – A commentary with director Jonathan Mostow. Blu-ray – Includes everything on the DVD, as well as 2 featurettes ("A More Perfect You: The Science of Surrogates", "Breaking the Frame: A Graphic Novel Comes to Life"), and 4 deleted scenes.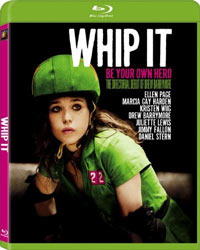 WHIP IT
Whip It may rely on every sports movie trope imaginable, but Drew Barrymore (in her directorial debut) injects it with enough charm, attitude and personality to even the scales. Besides, it's easy to forgive lack of originality when sassy women keep thrusting elbows into each other's faces. There's not much else to say, really. Whip It is a familiar tale told well. See it, enjoy it, forget it.
Available on Blu-ray? Yes.
Notable Extras: DVD – An alternate opening, and 8 deleted and extended scenes. Blu-ray – Includes everything on the DVD, as well as a Writers Draft with Shauna Cross feature, and a digital copy of the film.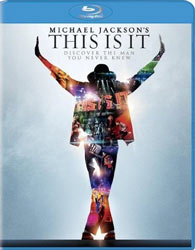 MICHAEL JACKSON'S THIS IS IT
Neither the be-all, end-all concert movie that some people were (unfairly) expecting, nor the insightful behind-the-scenes look at Michael Jackson's return to the stage that some people (unfairly) criticized it for failing to be, This Is It merely strives to recreate as best as possible the concert experience that never was. In that regard, it succeeds. But I'll admit: a full-fledged behind-the-scenes documentary might've been more interesting. This Is It's best moments are between the big numbers, such as when Jackson casually informs director Kenny Ortega, "I'm sizzling." Or, equally amusing: "You've got to let it simmer." Both phrases have since been incorporated into my lexicon, much to the chagrin of my friends and family.
Available on Blu-ray? Yes.
Notable Extras: DVD – Two 'Staging the Return' making-of documentaries ("The Adventure Begins", "Beyond the Show"), featurettes ("The Gloved One – Costumes", "Memories of Michael", "Auditions: Searching for the World's Best Dancers"). Blu-ray – Includes everything on the DVD, as well as a "Smooth Criminal" Vignette, a "Thriller" Vignette, and a Making 'Smooth Criminal' featurette.
EXCLUSIVE DEAL:
What? Exclusive Blu-ray/DVD combo ($24.99).
Where? Target.
EXCLUSIVE DEAL:
What? Blu-ray ($29.99) includes exclusive bonus disc and 3D backstage pass replica.
Where? Best Buy.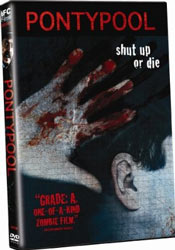 PONTYPOOL
Show, don't tell. It's one of the golden rules of filmmaking, and Pontypool deliberately breaks it. And bafflingly enough, the results are remarkable. This startlingly effective psychological horror is a reminder of the glory days of genuinely scary movies (e.g. Alien, The Shining), with tension being generated from what you don't see, as opposed to the more recent trend of relying on pure shock value and unloading as much gratuitous violence on the screen as the rating will allow. The film depicts easily one of the strangest, most perplexing outbreaks in cinema history, and it does so entirely from the POV of a radio station's morning team. They don't see the events first-hand, and neither do we. We do, however, hear on-air accounts of them. In a lesser director's hands, this concept very easily could've amounted to nothing more than a failed experiment. But the approach works; the minimalistic filmmaking is executed with subtlety and precision, creating a gut-wrenching sense of unease. Props must also be given to lead actor Stephen McHattie, who in addition to being a thoroughly engaging protagonist, has a gravelly voice perfectly suited to lull you into a state of quiet immersion. Once the chaos closes in on the radio station though, the film's tone shifts pretty drastically in an attempt to embrace the more darkly humorous elements of the plot, and as a result, the overall impact is somewhat diminished. Had the excessively goofy doctor character been removed, as well as the needless exposition he provided, the film would be greatly improved. But alas, I suppose we'll simply have to settle for a film that's 'damn good' instead of a minor masterpiece. Fine by me—I'm just happy it exists at all.
Available on Blu-ray? No.
Notable Extras: A commentary with director Bruce McDonald and writer Tony Burgess, the 59-minute CBC radio show, and three short films ("Eve", "Dada Dum", "Death of Chet Baker").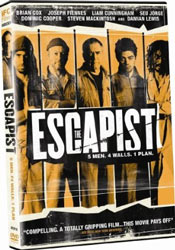 THE ESCAPIST
Bolstered by a kickass score, a gritty and unique visual style, and some truly exception sound design, The Escapist is an atmospheric, old-school prison break movie that proves that there are still some thrills to be had in the well-worn subgenre. The decision to structure the film by intercutting between two timelines—the first being the events leading up to the escape, the second being the escape itself—remains an enigma throughout the most of the film, but it eventually culminates in a way that provides thematic weight and meaning to what was already a thoroughly satisfying movie-watching experience. Also, it has Brian Cox. And I loves me some Cox. (Hmm. Poor choice of words.)
Available on Blu-ray? No.
Notable Extras: Deleted scenes, and a making-of featurette.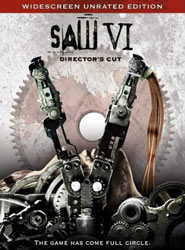 SAW VI
Jesus, are we at the sixth Saw film already? Let me guess what happens in this one: Somebody wakes up in a trap, they try to get out of it, they scream, the camera spazzes out while rotating around them, they die. Cut to: new unlikable people we don't care about, surviving unlikable characters from the last film that we don't care about, more traps, more deaths, a cop or two, a desperate attempt to keep Jigsaw involved in the story even though he's been dead for like three movies now, characters acting like assholes, more deaths, double-cross, minor twist, Saw theme music build-up, OMG super crazy twist involving either a character's secret agenda and/or some sort of non-chronological narrative, last remaining 'good guy' character is screwed, screams, roll credits. Granted, Saw VI has been said to be a considerable improvement on the most recent sequels, so it's possible that I'm way off in my prediction, but honestly, I don't care enough about the series to bother finding out.
Available on Blu-ray? Yes.
Notable Extras: DVD & Blu-ray – Includes the first original SAW feature film, as well as an audio commentary with director Kevin Greutert and screenwriters Patrick Melton & Marcus Dunstan, a second audio commentary with producer Mark Burg and executive producers Peter Block and Jason Constantine, three featurettes ("Jigsaw Revealed", "The Traps of SAW VI", "A Killer Maze: Making SAW GAME OVER"), and music videos.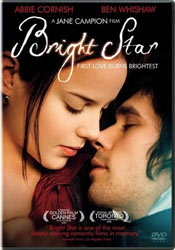 BRIGHT STAR
Period. Drama. Romance. Three words that, separately, inspire no immediate reaction, but together, strike terror into my soul. As of now, Atonement is the sole exception. Rotten Tomatoes indicates that I should take the risk to find out if Bright Star will earn a place alongside it.
Available on Blu-ray? No.
Notable Extras: Deleted scenes, and three featurettes ("An Inspiring Romance", "Becoming Keats and Fanny", "Setting the Scene").
Other noteworthy DVD (and Blu-ray) releases this week...
Southland (Season 1) – Give 'Em Hell Malone [DVD / Blu-ray] – Soul Power [DVD / Blu-ray] – Little Ashes – The Boys Are Back – I Hope They Serve Beer in Hell – Paris, Texas (Criterion Collection) [DVD / Blu-ray] – Roberto Rossellini's War Trilogy (Criterion Collection)
Other noteworthy Blu-ray-specific releases this week...
Atonement – Pride & Prejudice – Fame (1980)

NOTES: Some deals may be in-store only. All deals are for DVDs unless otherwise noted.

$16.99 – The Office (Season 1 – 5), 30 Rock (Season 2), SNL (Season 4), and more...
$19.99 – Blu-ray sale: Up, The Hangover, Harry Potter and the Half-Blood Prince, X-Men Origins: Wolverine, Public Enemies, Terminator Salvation, Angels & Demons, Night at the Museum: Battle of the Smithsonian
$7.50 – Burn After Reading, Juno, and more...

$14.99 – Entourage (Season 1 – 5)
$16.99 DVD or $24.99 Blu-ray – Fringe (Season 1), Supernatural (Season 4), Terminator: The Sarah Connor Chronicles (Season 1 2), Smallville (Season 8)
$16.99 – Blu-ray sale: The Bourne Identity, The Bourne Supremacy, The Bourne Ultimatum, The Incredible Hulk, Fast and Furious, Land of the Lost
$18.99 – Blu-ray sale: Star Trek, Transformers: Revenge of the Fallen, GI Joe, Braveheart, Gladiator, Eagle Eye, Transformers