New Kick-Ass Poster: "Shut Up. Kick Ass."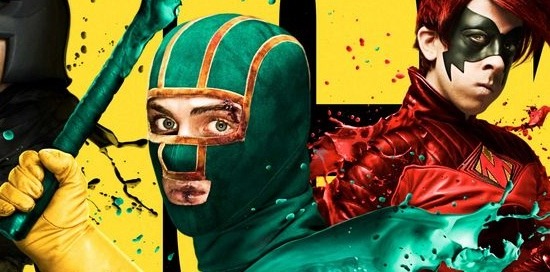 Lionsgate has released a new Kick-Ass theatrical poster on the film's official website (found via IMPA). The poster features all the main costumed characters: Nicolas Cage as Big Daddy, Christopher Mintz-Plasse as Red Mist, Chloe Moretz as Mindy Macready aka the vulgar and deadly 11-year-old assassin Hit-Girl and Aaron Johnson as Kick-Ass. Check out the full poster after the jump.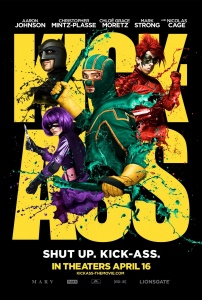 Update: We have since learned that Lionsgate fucked up and released this poster on the official Kick-Ass website earlier today even though it was supposed to exclusively premiere on HitFix. Click the thumbnail above to see the full image over there. Looks like Lionsgate isn't doing anything right these days...
I've said this with most of the previous character reveal banners (with the exception of Kick-Ass), but I really disappointed in the way Lionsgate is marketing this film thus far. I've not only seen the preview footage at comic-con, read part of the comic, but I've seen the entire film — it is awesome. The three reasons why people love the movie is because of the politically incorrect humor, the vulgarity, and the intense bloody super-stylized action. The posters for Big Daddy, Red Mist, Hit-Girl and now the entire cast, display none of these characteristics. They attempt to appeal to the masses with a colorful bublegum look, yet I've even heard from some of my friends in exhibition that the posters aren't even being put on display at many major movie theaters due to the word Ass in the film's title and tagline. So what's the point?
Don't get me wrong, this new poster is pretty cool looking — iI love the splattered paint look... but it just doesn't seem to be a good representation of the actual film. Instead of looking bad ass, Hit-Girl looks like a superhero that is trying to appeal to young girls. And I'm sure most non-aware movie-goers will write the image of Big Daddy off as a goofy looking copy of Batman. Lionsgate has been doing a good job releasing red band video clips and trailers from the film, but those kind og age restricted advertisements don't usually go much further than the eyes and fingers the visit the usual movie websites. How does Lionsgate hope to reach the mainstream audiences, other than the insane word of mouth which is likely to follow the release?