Kathryn Bigelow Attached To Direct Held By The Taliban, Based On New York Times Articles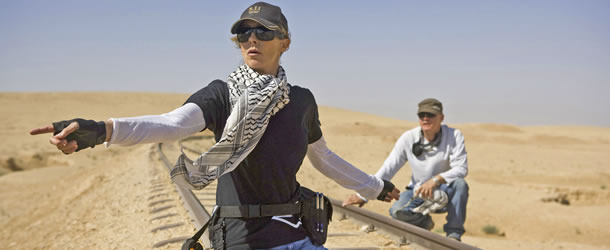 It's been a great year for Kathryn Bigelow; The Hurt Locker is one of the most critically-acclaimed films in a long time, and she's got a chance at being the first woman to take home the Best Director Oscar, even in the face of the juggernaut that is ex-husband James Cameron's Avatar. Hopefully this heat will help her make another film, and soon. There's word now that Bigelow is attached to direct Held by the Taliban, a film based on journalist David Rohde's New York Times articles that recount seven months he spent as a prisoner of the Taliban in rural Afghanistan.
All we've got to go on with respect to the film at this point is a tweet by Production Weekly announcing Bigelow's attachment. But there's plenty of material from Rohde to read, and you can easily see how Bigelow could construct a film based on his accounts.
In 2008 Rohde arrived in Afghanistan, intending to spend three weeks gathering information for a book "about the squandered opportunities to bring stability to the region," for which he concluded interviews with the Taliban would be required. One such interview led to his kidnapping, after which he spent months with an Afghan journalist and their driver, held by hardline forces in parts of Afghanistan that, Rohde discovered, were ruled by the Taliban that Afghanistan had supposedly cast out in 2001.
If the film is made it would be an interesting thing. Rohde, or a character representing him, would be the lead, but the real primary character would be the Taliban, as illuminated by Rohde's experience. What did his kidnappers want? What are they trying to achieve, and how? The Hurt Locker faced enough problems competing at the box office — will anyone see a non-documentary film about the Taliban? (I'm assuming for now that this is not a documentary; that might be incorrect.)
You might wonder what's up with Triple Frontier, the film that Bigelow was attached to as of the middle of last year. She and The Hurt Locker screenwriter Mark Boal were talking about that, but she was never announced as director. So Bigelow may still produce Triple Frontier, with Boal writing and someone else directing.