UPDATED: Avatar Box Office Opening: $77 Million Domestic, $242 Million Worldwide, Biggest Debut Ever For An Original Film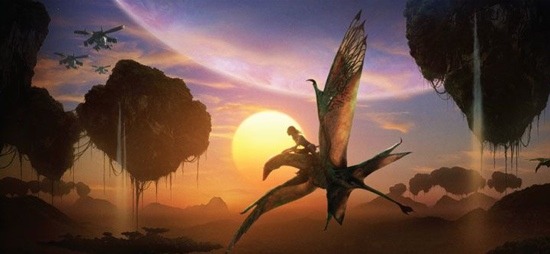 [Update: This morning, the estimates for Avatar's domestic and worldwide box office take were revised. Avatar performed better on Sunday than initial estimates. The headline has been updated with the correct figures. The following article will be updated as more details come in.]
On this week's episode of the /Filmcast: After Dark, veteran film journalist Anne Thompson stopped by to discuss Avatar and its box office prospects. While our full podcast review of Avatar won't happen until Tuesday night, Anne made two points/predictions that I found particularly interesting: 1) She predicted a $1 billion worldwide box office take for the film when all is said and done – a remarkable achievement for any movie, but not as high as the $1.8 billion of Cameron's Titanic, and 2) There was a high possibility that Avatar would not open as strong as other blockbusters (i.e. over $100 million domestic for opening weekend); it's based on an entirely new property and the marketing featuring the Na'vi imagery hasn't been as good as it could have been. Despite this, she predicted, word of mouth will carry it for weeks to come.
It now looks as though Anne's predictions are quickly on track to becoming a reality. Avatar took in $77 million domestically and $242 worldwide (i.e. North America plus 106 foreign markets) in its opening weekend.
If that $77 million domestic opening seems a little soft to you, it's because it is: A significant portion of /Film readers out there might recall that a lot of the east coast, including myself here in Boston, MA, were hit by a massive blizzard this weekend. This undoubtedly threw off the original predicted totals by a significant amount, some of which were in the $80 million range. As an east coaster, I might have been looking forward to Avatar a great deal, but I probably would not have risked my life to get to the movie theater. Despite this, it still managed to be the 2nd biggest December opening ever, bested only by 2007's I Am Legend.
All that being said, there's still a substantial possibility that this movie will deliver on its financial promise. Its worldwide take was $277 million, making it the 9th largest worldwide opening for any film, and the largest opening ever for an original film, where "original" is defined as a non-sequel, non-adaptation. For comparison, check out Boxofficemojo to see the best worldwide openings of all time (hat tip to The Film Stage). In a world where the biggest movie releases, year-after-year, are sequels and adaptations, it's refreshing to see an original property get some box office loving.
Word-of-mouth on the film is also excellent. According to the LATimes:
Every demographic gave "Avatar" an average grade of A, according to market research firm CinemaScore, meaning those who didn't turn out for opening weekend will be getting strong recommendations from those who did. The combination of Christmas falling on a Friday and positive word of mouth has Fox executives buzzing that "Avatar" could gross nearly as much on its second weekend as its first and hit $200 million by the end of the year in the U.S. and Canada.
The Times uses $430 million as the budget for this film and acknowledges that $1 billion worldwide is a possibility. Thus far, $232 million is definitely decent, but the film hasn't even opened in China and Japan yet, meaning its best days are probably ahead. The Times also gives other interesting statistics: "Domestically, theaters with 3-D screens accounted for 71% of the movie's gross despite representing only 60% of theaters," while overseas, the disparity was even greater. This is due to the cachet of 3-D as the preferred viewing format of this film, and the fact that 3-D tickets cost more.
Predictably, other films didn't make much of a dent this weekend. The Princess and the Frog dropped 50% to take in $12 million, bringing its total domestic take up to $44.7 million, while The Blind Side continues to hold on, taking in $10 million with a $164.7 million domestic total. Did You Hear About the Morgans bombed with only $7 million. Click here for the full weekend chart.
So much has been said about the massive cost of this film, but as I stated on this week's /Filmcast, regardless of your feelings towards Avatar, its success will be beneficial for the movie industry as a whole. It will show that Hollywood that huge event films can still be financially viable (and as a film lover, I really don't want them to go away), and it will reward innovators like James Cameron, encouraging them to keep breaking new ground with filmmaking technology.
Feel free to share your thoughts/predictions on Avatar's box office below. You can also discuss your thoughts on Avatar, listen to my interview with James Cameron, or read the reviews of the entire /Film staff.