The Buzz: Filmmakers React To Avatar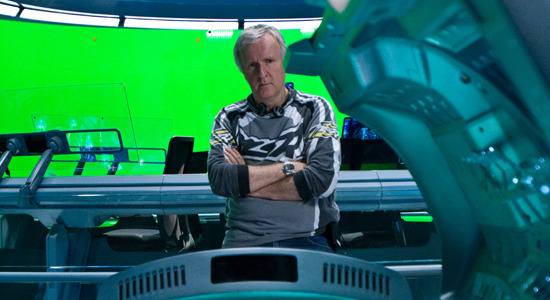 James Cameron's Avatar has been unleashed upon this world. We've run reviews from half of the /Film staff: David Chen, Brendon Connelly, Russ Fischer, and Hunter Stephenson. You might have even added your own mini-review. But you might be wondering, with all the talk of game-changing advances in the tech side of filmmaking, what do the writers and directors in Hollywood think of Avatar? Here is a round-up of quotes:Zombieland director Ruben Fleischer: "Went to a special screening of Avatar last night where James Cameron did a Q&A after the film. I can't tell you how much I loved the movie, or how clearly Cameron cemented himself as the world's greatest living filmmaker. This is an incredible movie. I recommend seeing it in IMAX. So next level. So awesome. Avatar is a game changer. James Cameron wins."Back to the Future, Indiana Jones and Bourne series Producer Frank Marshall: "Wow!!! AVATAR is audacious and awe inspiring. It's truly extraordinary and I would really need a blog to talk about it..."Donnie Darko/The Box director Richard Kelly: "AVATAR was amazing. Lived up to all the hype – now must see in IMAX..."Steven Spielberg: "The last time I came out of a movie feeling that way it was the first time I saw Star Wars." ... "The most evocative and amazing science-fiction movie since Star Wars."Danny DeVito: "AVATAR!!!! And the oscar goes to The King Of The World Bitches!!!"Shaun of the Dead and Hot Fuzz director Edgar Wright: "Avatar. One word review. Pretty-fucking-stunning."Screenwriter John August simply called the film a "Master class", earlier tweeting "Holy Jeebus Avatar" and later clarifying "I use Holy Jeebus in the very-much-to-the-good sense. One doesn't cite a Jeebus in vain."Moon director Duncan Jones: ":| I that's my concerned face. That's how I feel after seeing Avatar. It's not in my top three Jim Cameron films. Am I alone here?" ... "at what point in the film did you have any doubt what was going to happen next? Or were you ever surprised how it happened?" ... "and did you ever wonder to yourself why they didn't just bombard shit from orbit?" ... "Would have appreciated the barest bit of explanation for the floating mountain islands in Avatar... Pumice stone full of helium? Something!"Editor's Note: Cameron did explain the floating mountains in the mention that the flux vortex causes gravity to be lower in that region.Documentary filmmaker Michael Moore: "Go see Avatar – a brilliant movie 4 our times. Don't worry if theater doesn't have 3D – the 2D is awesome & it's all about the story anyway!"Pixar Animator Andrew Gordon: "We were blown away. Hats off to all the amazing artists that were involved with making that film. You guys really set the bar high. I was immersed in the story and characters. The animation/motion capture was superb. You could tell every frame was touched by an animator, mocap or not. I have not felt like that since I was a kid... The facial animation was so believable... Every eye dart, every movement of the brows communicated things so clearly. The world was so lush. I can't wait to see it again!  Some of the guys saw it in 2d and liked it just as much. The way to experience it in my opinion is 3d Imax. Cameron really knows how to push and pull the depth."Lost co-creator and Star Trek producer Damon Lindelof: "I'll say what others won't. Avatar hypnotized me. I'm not sure if it's a work of genius or utter shit. Could it be BOTH?"
Fanboys director Kyle Newman: "AVATAR was a splendid visual feast! James Cameron gave my eyeballs a handjob"
Trick r Treat director, X2 and Superman Returns screenwriter Mike Dougherty saw the movie twice: "Avatar is even more fun if you pretend it's Alien 5 and Ripley lived and became Dr. Augustine and somewhere on that planet is an egg..."
X2 and Superman Returns director Bryan Singer: "It was very cool. I had seen 30-40 minutes before, but the whole thing was amazing. From the beginning, with those shots in space, I felt goosebumps. It was inspiring. I'm going back and forth, debating, on using 3D for "Jack," and it pushed me a little closer in the 3D direction."
Kevin Smith and George Lucas have not yet seen the film, but both hope to catch it during the holiday week.