Wait, Now Terry Gilliam Says Johnny Depp Is IN The Man Who Killed Don Quixote?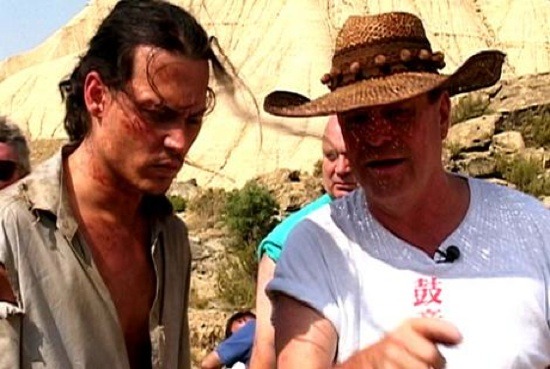 UPDATE: As was reasonable to suspect, a publicist for Gilliam says that he must have misheard the question, and that Johnny Depp is currently not involved in The Man Who Killed Don Quixote.
The wild, weird saga of Terry Gilliam's film The Man Who Killed Don Quixote continues. We've recently learned that Robert Duvall will play Don Quixote, a role originally inhabited by Jean Rochefort before the original production of the film was shut down.
The big question lately has been which actor would play the time-traveling character who encounters Quixote and is mistaken for Sancho Panza. Originally he was played by Johnny Depp. But Depp is booked solid these days, and in recent interviews Gilliam has been less than positive about the way the actor's career is managed. ("Come on. You've got the power to make some really good films happen. Why are you doing this shit?" he said to HitFix.) Depp has said he didn't want to make Gilliam wait for him, and the filmmaker seemed to accept that.
And yet, in an interview this week, Gilliam appears to confirm that Depp is in the picture.
Paste has a rather epic year-end conversation with the filmmaker which concludes with the following brief exchange:
Paste: Is [Quixote] still going to have Johnny Depp in it?
Gilliam: Yeah, and I rewrote the script. Robert Duvall has agreed to play Quixote. I'm really excited. So it's all that business of funding now.
The director's feelings about Depp's recent career moves aside, I can't imagine that he (and his financiers) would turn the actor down if his schedule opened up. That could have taken place. Disney has been striking down movies started by fired exec Dick Cook. One of the projects still nominally standing is the fourth Pirates of the Caribbean film. But director Rob Marshall has recently been hedging his comments about when the film is happening. With Pirates 4 off the board, there would be a big hole Depp could fill with Quixote.
This is all total Friday afternoon speculation right now. All we really have to go on is Gilliam's statement, but we'll track down more info as quickly as the impending holiday will allow. I double-checked with both the web editor at Paste and the writer who did the piece, and they stand behind the quote, which Gilliam uttered on 12/15, so we'll take it at face value right now.