VOTD: Jim Jarmusch Sings Neil Young's 'Cortez The Killer'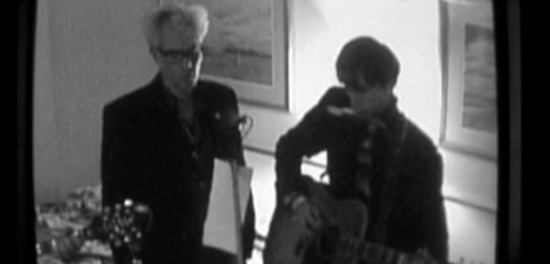 Director Jim Jarmusch loves Neil Young. The venerable singer/songwriter masterfully scored Jarmusch's Dead Man and with the band Crazy Horse was the object of the filmmaker's follow-up, the tour documentary Year of the Horse.
Jarmusch also seems to love the New York edition of the All Tomorrows Parties music festival which, for the past couple years, has taken place in the Catskills each September. In 2008 as friends and I strolled around ATP one of them said, "hey, there's Jim Jarmusch having a picnic." Evidently the director returned to the scene of his lunch again this year. How do we know? Because there's a video of him singing Neil Young's classic 'Cortez the Killer' in a hotel room at the fest.
The video comes from Pitchfork, which has been posting a great series called Surveillance, all of which so far were shot within the small, dingy rooms at Kutcher's, the resort where ATPNY takes place. (There's a great one with Nick Cave performing with his film scoring partner Warren Ellis and Ellis' band the Dirty Three that makes me jealous of anyone who was there in the flesh.)
Performing Young's tune with Jarmusch here is Atlanta's own Bradford Cox (Deerhunter, Atlas Sound, the Where the Wild Things Are soundtrack) and Randy Randall from No Age. Cox and Jarmusch both sing, with Cox providing the nasally half of the Young impersonation while the silver-haired filmmaker throws down the low end.
This is an earnest, spare version of the track, and Jarmusch looks endearingly sheepish performing it with Cox and Randall. "You should do it again," he says, seeming to imply without him, as he backs away from the mic when the last notes fade. Cox just gushes about what an honor it was to sing with him. As I would.