Bill Murray Playing A Ghost In Ghostbusters 3? Old Rumor Still Kicking.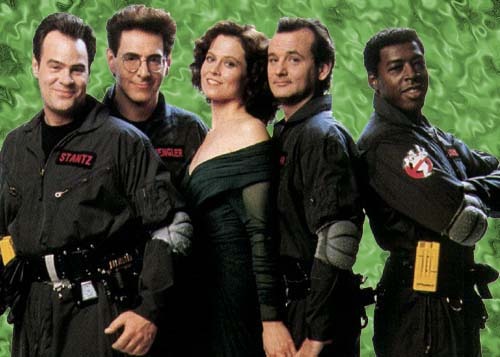 Ghostbusters 3 will become a reality only when a thumbs-up is given by each of the franchise's three main actors, Ivan Reitman, and Columbia Pictures. And while everyone seems game—Dan Ackroyd most of all—if there's a participating wild card it would be Bill Murray. In recent press rounds for Fantastic Mr. Fox, the actor managed to fire off countless witty quips about the sequel's status, all of which equated to, "If the script is good," and none of which conjured Jim Cameron's, "Stop asking. I'm crowning." In a new interview via AICN, GB co-star Sigourney Weaver expressed medium interest in a brief reprisal of her character Dana Barrett. And then, cue your Tegan and Sara 7", she may have given up the ghost...
I'm afraid to say it [Ghostbusters 3] is happening, I hope people are excited about that. I don't know if I'm going to be in it, I have had a couple of calls asking 'would you read the script.' I might be in it; I see nothing wrong with being in it, although I don't think I will have a big part. I think Bill Murray has a little more to do with it – he's a ghost.
The above quote is from the article. However, in the video of the interview below, she says, "I think he might be a ghost." Oh, Brits. That said, this is a rumor that might be new to several readers, but one I've heard for almost a year now, dating back to an earlier, likely rejected draft. Then again, the rumor seemed to originate right alongside the since confirmed one about a new squad of Ghostbusters; a team consisting of actors a little younger than today's go-to funny guys like Seth Rogen and Jack Black. And Michael Cera was one name that was being tossed around, but he's since said fuhgeddaboudit. Here's a characteristic quote from Murray from October on the possibility of the sequel itself...
"I'll believe it when I see it. I saw a guy talking about the end of the world a couple years ago, and I still haven't seen that either—so I'm not going to believe the Ghostbusters story until I see it."
Also from October was a post confirming that Reitman was unsure if he'd again direct. Peter said therein that he'd heard a new draft had been submitted by screenwriters Lee Eisenberg and Gene Stupnitsky. In the name of speculation, maybe Weaver was referring to this draft and perhaps a Peter Venkman-as-spectre storyline remains in play.
When I first head the ghost rumor, I thought it was a bad sign—it would seem like a half-assed way to get Murray to star, no? Why not make Ernie Hudson a ghost, or the prayer that is Rick Moranis, if this has to happen? But now I'm more concerned with the franchise opening the field to Alyssa Milano (reprising her video game role) and Eliza Dushku, both of whom Harold Ramis mentioned would likely be involved over the summer.In the Ghostbusters video game, Milano played Murray's new love interest; might this negate the ghost idea? If not, we can confirm that Venkman is still a dog, even in the mundane afterlife.