Garth Jennings Updates On His Two Current Movie Projects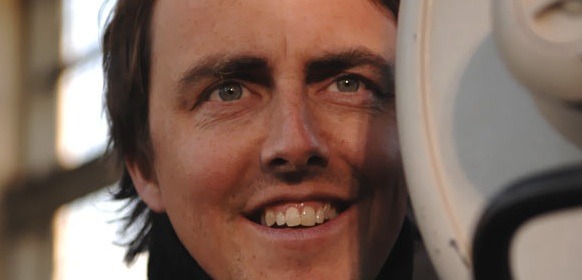 There's more strings to Garth Jennings' bow than to a life sized Harp lager logo. Along with producer Nick Goldsmith and (sometimes) editor Dom Leung, Jennings is one part of Hammer and Tongs, creators of world-beating music videos and commercials; he's part of Squid Vicar, a Tongs offshoot musical... thing that has played a fair sized handful of gigs and released an album of telephone hold music; he's the best presenter that The Adam and Joe Show on 6 Music doesn't always have; he directed The Hitchhiker's Guide to the Galaxy and Son of Rambow; and he's particularly good at telling Mark Kermode to "F*** off" on TV. Basically, he's living the dream.
In interview to discuss his new video for Vampire Weekend's Cousins (which you can see below the break, alongside a test/pitch version), Jennings also gave a minor update on the two big-screen projects he's got in development – one animation, the other "a live action epic".
The script for the animated film has been completed, Jennings tells Pitchfork, while the epic is still being worked on. Both are "gigantic labours of love" he says and hopes that "someone will let us play with them soon".
This Hammer and Tongs ad from a couple of years back shows a dalliance with CG-rendered character animation in something like a Pixar vein.
In an old Coming Soon interview, they revealed that a deal was in place with Universal's Illumination, but it's not known if that still stands or not. Another interview with Eye for Film saw Jennings suggest something between Pixar and Sylvain Chomet is intended for the project. On the record, though, he has always said that he's not sure if the film will be in CG or hand drawn animation and that they will let the story dictate. Of course, with a completed script, the story can now get on dictating. So, which will it be, Garth? Perhaps the budget will do some dictating too, which isn't fair, but hardly a surprise.
As for the epic, it's still being written. They did describe Son of Rambow as an epic, several times, so don't necessarily expect hordes of orcs sweeping rambunctiously across the plains.
Here's the Cousins video and he demo clip embedded below, and if you click over to the Hammer and Togs portfolio, my favourite commercial of the year, a beautifully well executed, supremely well thought out little spot for Boots.
Via The Playlist.