Avatar: A Positive Early Review, More Budget Speculation, Creature Design, Two New Featurettes And More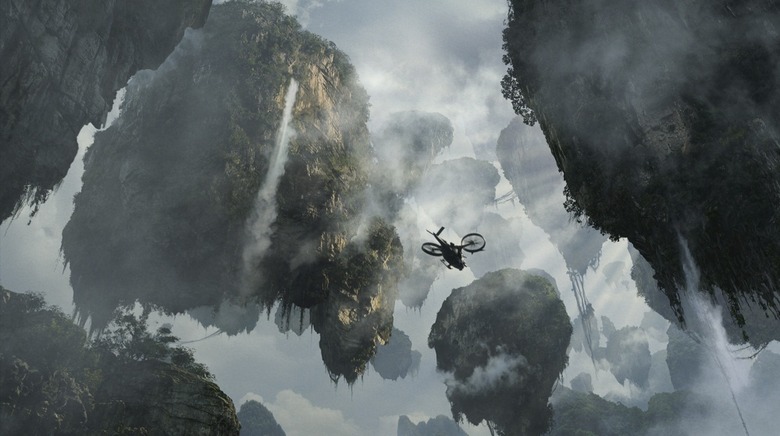 With less than two weeks to go before James Cameron's Avatar hits the big screen worldwide, 20th Century Fox is definitely full throttle into marketing and promotion. After the jump we have a lot of new Avatar news tidbits, including another early review, this time a bit positive, more big claims from Sigourney Weaver, some quotes from creature designer Neville Page (Cloverfield) on the creatures of Pandora, more speculation on the real budget of the film, and two new featurettes (one of which is a really cool scientific nature documentary about Pandora).
Jeff Wells has spoken to someone who has seen the film, and here is what they said:
"the action scenes delivered everything you'd expect from Cameron, even in this digital form. Visceral, detailed, a 'first-person shooter' experience on the biggest game screen ever hoisted. The simple, predictable story was deemed as almost perfunctory, as if adding too much storytelling and exposition would have amounted to a sensory overload. After all, no one discusses 2001: A Space Odyssey in relation to its plot. Star Wars either." ... "despite all the trappings of special effects, blue people and CGI skies, Sigourney Weaver still manages to register strongly with warmth and a commanding presence."
While most of Fox and the Avatar team are trying to calm down expectations (or at least bring them down to a realistic level), Sigourney Weaver is still making bold claims like "Avatar will change what people want in the cinema". Weaver tells the Guardian:
"It will pick you up and shake you like a little rag doll. I'm not too much of an emotional creature, but I was weeping by the end. I remember reading the script and thinking, I love this but how can he ever do this. Nothing like this has been done before – floating mountains! I think for a certain generation it will change what they want to happen in the cinema. It is as big as sound. I hope it won't impact every movie, but for the big movies it raises the bar – it throws the bar away."
Meanwhile, creature designer Neville Page, best known for creating the Cloverfield monster, talks to Hero Complex about designing the creatures of Pandora:
"We worked on the Na'vi, the plants, the environment... Jim, like few others, is so tuned into the plausibility of organisms. He wanted them to look as real as possible, and work organically as well." ... ""The banshee is what I spent the most time on. We knew it was a flying creature. What made it so incredibly challenging, with a bird you have to design it flying, perching, everything has to work. You can't just draw it one view at a time... The hardest thing of all was having a Na'vi on top of it and flying it. You had to backwards engineer it. It was like designing and engineering an aircraft. And that's without the beauty and aesthetics of it."
And how much did all this cost? You've heard speculative numbers ranging as high as $600 million, but whats the truth? The Wrap claims they have the real numbers, which are $237 million, with $150 million for promotion. They conclude that "Presuming Fox's $387 million compounded figure is accurate, the film should have no problem getting into the black." But are the numbers accurate? David Poland doesn't believe so. But then again, Poland doesn't provide any more accurate numbers.
And a bunch of new featurettes have shown up online. First up is a three and a half minute featurette on the story of Avatar:
CanalPlus has an awesome scientific look at the planet and creatures of Pandora, narrated by Sigourney Weaver. If you're going to watch one Avatar featurette, this would be it:
And MTV has finally put last week's live Avatar Q&A with director James Cameron and stars Sam Worthington and Zoe Saldana online: