Early Buzz: Avatar: The Video Game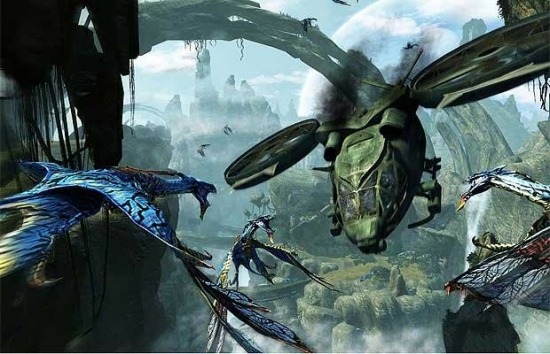 The first press screenings of James Cameron's Avatar take place on Thursday, December 10th, so we won't hear any reactions until then. But reviews for the Avatar Video Game have begun to be published, and it's not good. The game currently has a 64% positive rating on metacritic, which equates to "mixed or average reviews". It should be noted that while the video game takes place in the world of Pandora, and features creatures and technology seen in the movie, the storyline is different — something created just for the game. Below you can find a few review excerpts:
1UP: "Avatar's not a bad-looking or playing game — it's just very average. You may have the whole planet to explore, but your primary objectives boil down to "go to a point, push a button and or kill some guys, then go back to the start." The framework's in place — a wide array of weapons, big enemies to take down — but Avatar just doesn't put them in an interesting setting."Official Xbox Magazine: "Nitpicks are plenty, but so are the surprisingly fun aspects — whichever side of planetary strip-mining you fall on."
More after the jump.
GameSpy: "The basic gameplay of Avatar is so fundamentally flawed that even those few bright spots would only set you up for disappointment. Because, despite the guiding hand of Cameron, Avatar is ultimately just another big-name movie game that doesn't fulfill its early promise."Game Informer: "In the end however, these extra layers can't fix the subpar combat and disappointing storyline at the game's core, leaving Avatar a lackluster, though not entirely unpleasant, experience. While forgiving sci-fi fans might still appreciate this intergalactic romp, the average gamer is left with an easy choice: this game is a rental at best."IGN: "The gameplay feels like it needs more work. Loose controls, bad melee combat, weak mission design, and a wonky camera dull the experience."TeamXbox: "Ubisoft Montreal has crafted one of the better licensed efforts we've seen in a while, but a weak story, poor pacing and a few minor gameplay flaws keep Avatar from competing with the likes of far superior, recent third-person efforts such as Assassin's Creed II and Batman: Arkham Asylum."GameSpot: "It's not a bad game, and portions of it are competent, if not quite remarkable. But Avatar wears thin quickly, and the story is too fragile to compensate for the deficiencies."