Zombieland 2 And Jackass 3D Confirmed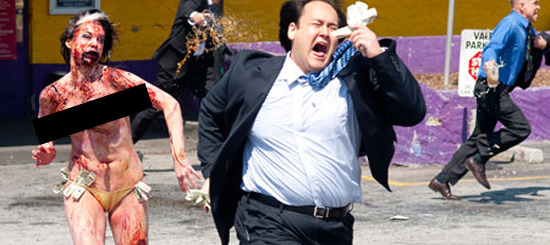 Last month, Zombieland director Ruben Fleischer mentioned that not only is Sony interested in a sequel, but if they can "crack" the story for a sequel, it will probably be shot in 3D. A few days later, a list of Paramount's 2010 slate listed another Jackass sequel, Jackass 3D. Variety has now confirmed that both projects are in development. Who is signed? Who isn't? When will the films go into production? Find out after the jump.
According to the story, Sony has already closed deals with helmer Ruben Fleischer and producer Gavin Polone to return for the 3D sequel, and screenwriters Rhett Reese and Paul Wernick are  already working on the sequel's screenplay. Of course, the stars of the original, Woody Harrelson and Jesse Eisenberg, are not yet signed, but the studio is in talks with the pair to reprise their roles. Harrelson has expressed interest in making another film, so I'm betting it will probably happen, eventually. I'm really glad the original creative team is signed on for the sequel, because it is their contributions that made the first film greater than the concept.
As for Jackass 3D, filming is scheduled to begin on January 25th 2010, with a release tentatively scheduled for later in the year. The first Jackass film was released in October, and the sequel hit in September, so I would expect the third installment to hit around the same time — fourth quarter 2010.