Page 3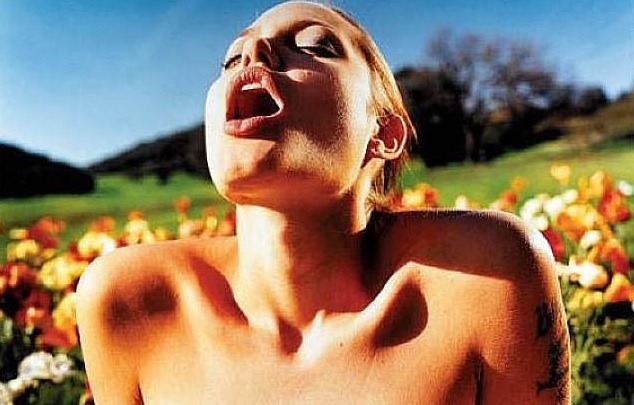 The above image can't possibly be called exploitation in the name of hit hunting. Why? Because sex and nudity don't lure us into the cinema, or at least it says so here a new report discussed at Miller McCune (via Cinematical). So why would it work with blog posts? Ahem.
Page 3 is the eccentric little brother of Page 2 and compiles even more stories which, for whatever reason, didn't make the front page of /Film. There's a whole heap of different items after the break.
Variety have charted the success so far of Princess and the Frog merchandise. 45,000 Tiana dolls sold to date, 17,000 in just the last week. Is that a lot? I thought they shifted a lot more Lightning McQueens than that.
You can stream four tracks from the Dr. Parnassus soundtrack by Jeff and Mychael Danna at The Imaginarium of Dr. Parnassus Support Site.
...and when you're done listening to those, Mark Romanek has provided an online version of a great, recent radio interview he gave in Dublin. He discusses his upcoming sci-fi tragedy Never Let Me Go, a film which Spike Jonze recently wrote about saying:
I don't know what I can and cant say about it but I love the story. Even just a few scenes he showed me on their own were really moving. The combination of a science fiction film handled very subtly and naturalistically that also made me cry and is beautifully photographed (Adam Kimmel) is a trifecta.
Romanek has allowed the public the below tiny glimpse into the editing room too.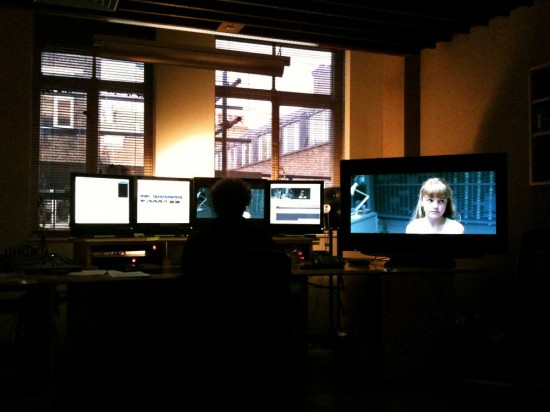 Some of Audrey Hepburn's clothes are going under the hammer, including a number of her famous Givenchy outfits. Yahoo tell us that the proceeds will be going to charity. Incidentally, Kelly Brook has posed from some pictures to promote the Sky Movies Xmas lineup here in the UK, including these snaps of her as Hepburn's Holly Golightly and a gender bent Indiana Jones.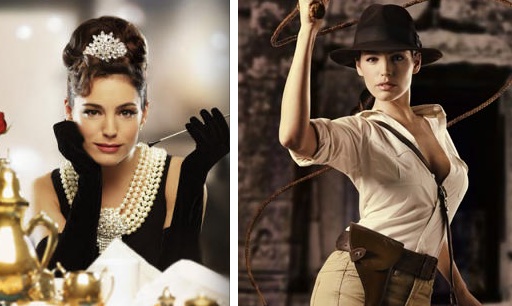 Eva Mendes tells Movieline that closeups are overrated during a Bad Lieutenant: Port of Call New Orleans promo chat. She says:
I happen to believe that a close-up is so overrated. I think if the camera can just sit for a while before it goes in on your face, and you can see body language and behavior, that says so much more than the camera just being up in your face. Especially with a lot of American filmmakers, they love close-ups. I think keeping the camera far away is far more powerful
Yeah, take that, Edwin S. Porter.
A Single Man director Tom Ford has played 16 Questions with Anne Thompson. The final answer:
Well, I've written something else from scratch, but I can't say whether or not it's what I'm going to do next or not, I need some distance. My head is spinning.
Below you can see Dan Abnett discuss the Warhammer 40k movie that he's scripting, courtesy of Quiet Earth. The film's director is to be Martyn Pick, an animator who contributed to The Age of Stupid.
Faran Tahir faces inevitable Iron Man 3 questions in a new Moviefone intererview. It sounds like he expects Jon Favreau and team to align their future plans to audience expectation, which is used to suggest an appearance by The Mandarin.
Meanwhile, Paul Bettany tells IGN that he has yet to receive his call to record his voice for Iron Man 2. If you recall, he provided the voice for Jarvis, the computer in part one and, so far, we assume
Christmas With Walt Disney starts next Friday at the Walt Disney Family Museum. Curated by Don Hahn, "this special holiday screening includes The Nutcracker Suite from Fantasia (1940), Pluto's Christmas Tree (1952), scenes from the television Christmas specials, and rarely seen home movies of Walt and his family."The Pixar Blog have a report on a presentation held by Pixar Canada, the studio's short-film satellite set to launch next year. Dylan Brown visited Vancouver Film School, and a picture record has been posted to Flickr.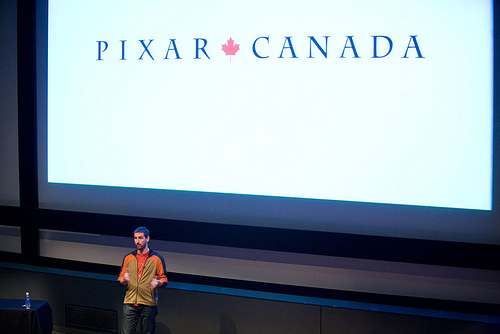 Let's stay in Canada for a moment. Tarsem's Dawn of War, formerly War of Gods, has set up production offices ahead of a March shoot. As with pretty much every news story featuring the words "production offices", this comes from Production Weekly's Twitter.
Shock Till You Drop have confirmed with screenwriter Cory Goodman that the remake of The Brood is still in the works. I hope it's even a half as good as Cronenberg's original.
The BBC have reported on You Tube's auto-subtitling feature. Spot any funny malfunctions, do let me know.
Morgan O'Neill's The Factory, a serial killer thriller with John Cusack, has been missing in action for almost a couple of years now, and isn't scheduled for release until January 2011. Shock Till You Drop set out to find out quite what has happened to it from producer Don Carmody:
The main thing is the ending and the beginning, which is a flashback sequence that needed to be shot in different weather so it was always on the back burner until we could do it. After [producer] Joel [Silver] saw the movie, he wasn't so crazy about the flashbacks. They tweaked the ending and shot it a couple of months ago. So they're mixing. The picture's basically finished.
Quiet Earth unearthed the following trailer for Australian chase picture Road Train, a film they compared to Blood Car, a real recent favourite of mine and Duel, a film I don't care for. Way to whet my appetite before serving me a plate of slugs.
According to Laughing Place (via Toon Zone News), Bret Iwan is the new, official voice of Mickey Mouse.
Jessica Bendinger, screenwriter of Bring it On, which I loved, and Stick It which I really should watch is holding a competition. What you have to do is adapt a scene from her novel The Seven Rays into a mini-screenplay. Good luck!
It sounds like The One Ring have been tipped off that a Hobbit announcement of some import will arrive on December 8th. I'm betting on a Bilbo name, but what about you?
Here's a new French poster for Jaco van Dormael's Mr. Nobody.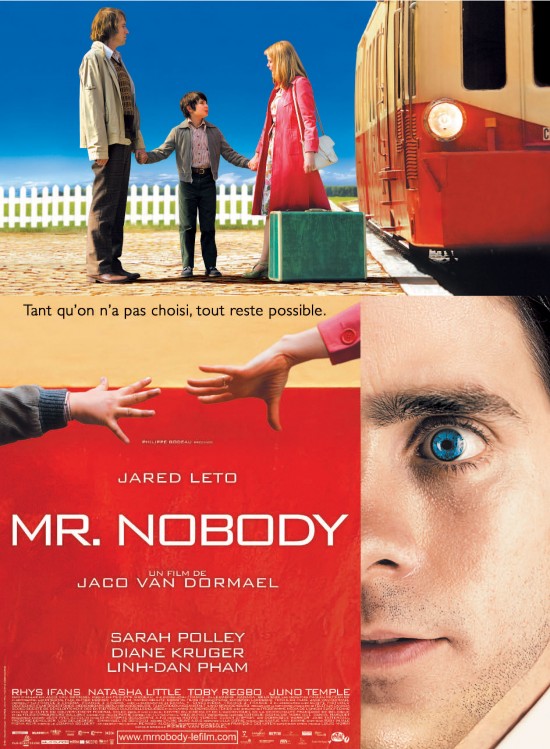 Greg Staples has been cast as Judge Dredd. Wow. Who's Greg Staples? Oh... hang on. This is for the Judge Minty fan film. As for DNA's big Dredd film, concept artist Jock has tweeted that there will be a meeting on Monday.
Wired want to tell you how to make a feature film on the cheap. Good luck! Again!Jane Campion's scinitillating romance Bright Star is easily one of the best films of the year... but Sony have cancelled its US DVD release almost as soon as announcing it, according to BluRay.Com. Normally the announcements read psotponed, not cancelled, so I don't know what's up here. Did somebody forget to clear some rights?