Page 2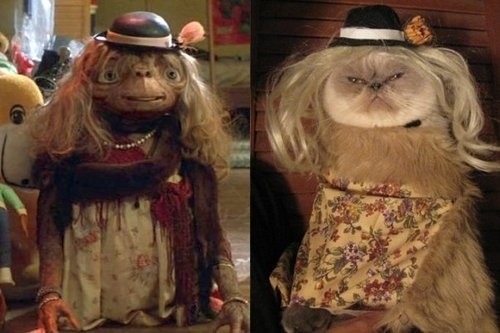 Page 2 is a compilation of stories and news tidbits, which for whatever reason, didn't make the front page of /Film. After the jump we've included 49 different items, fun images, videos, casting tidbits, articles of interest and more. It's like a mystery grab bag of movie web related goodness.
E.T. Kitty!!!! [buzz]
Click on over to BLDGBLOG to see some fantastic post-apocalyptic photos of New York City, after the flood.
ScriptShadow has a screenplay review of Liars (A to E), which , a green-lit project that fell victim of Miramax downsizing but was due to star Rebecca Hall and Kat Dennings, directed by Richard Linklater: "Liars (A to E)' is genuinely engaging, delightful, whip-smart and – most refreshingly – a script about smart women that smart women will love."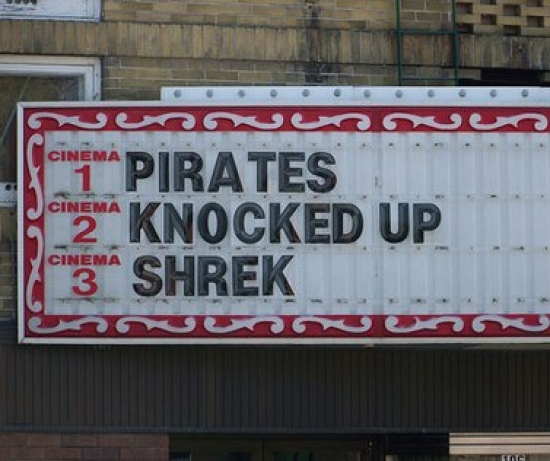 SuperTremendous takes a look at the 10 funniest movie theater marquees of all time.Shock has posted their 2009's "Missing in Action" Horror Checklist (7  horror films you were supposed to see this year...but didn't)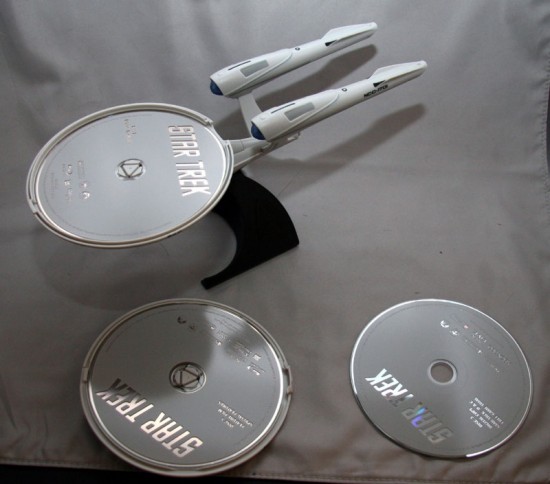 ENI reviews the USS Enterprise packaging for Target's retail exclusive of Star Trek.
Director Edgar Wright remembers actor Edward Woodward (Hot Fuzz).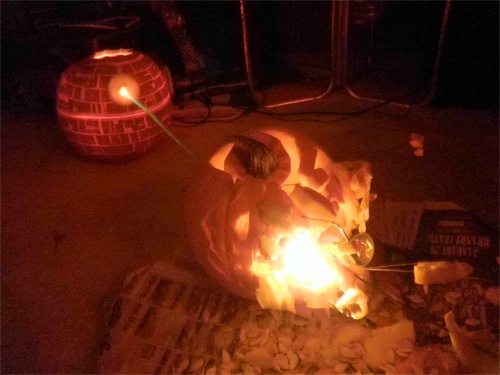 I know its a little late to be posting Halloween stories, but we missed this photo of pumpkin Death Star destroying pumpkin Alderaan. [nerdcore]
BlackBookMag takes a look at some of the creatures of Pandora in James Cameron's Avatar.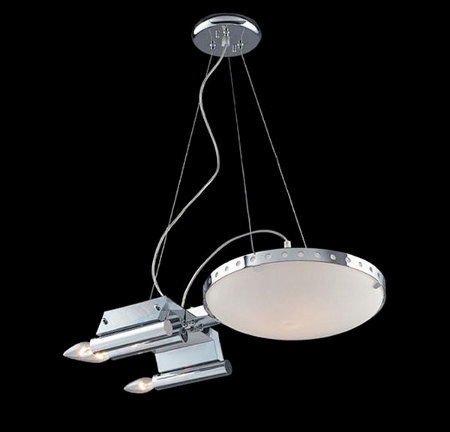 ELK Lighting's Star Ship chandelier was designed to resemble the Starship Enterprise and is available for $189. [geekologie]
Star Trek creator Gene Roddenberry will finally be inducted into The Academy of Television Arts & Sciences Hall of Fame. [trekmovie]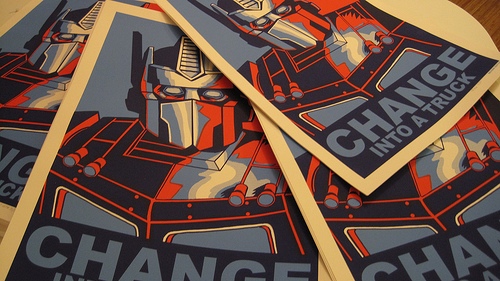 Nakatomi is selling 8×24, 3-color prints of Tim Doyle's Optimus Prime Change into a Truck art, signed and numbered by the artist in an edition of 130 for $25.
A guy stabbed himself in the leg so he wouldn't have to go in to work at Blockbuster. [huffpost]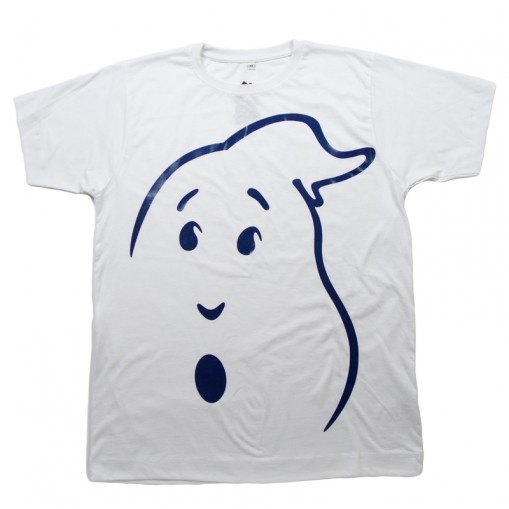 This might be one of the coolest Ghostbusters t-shirts I've ever seen, but not worth the £35 price tag.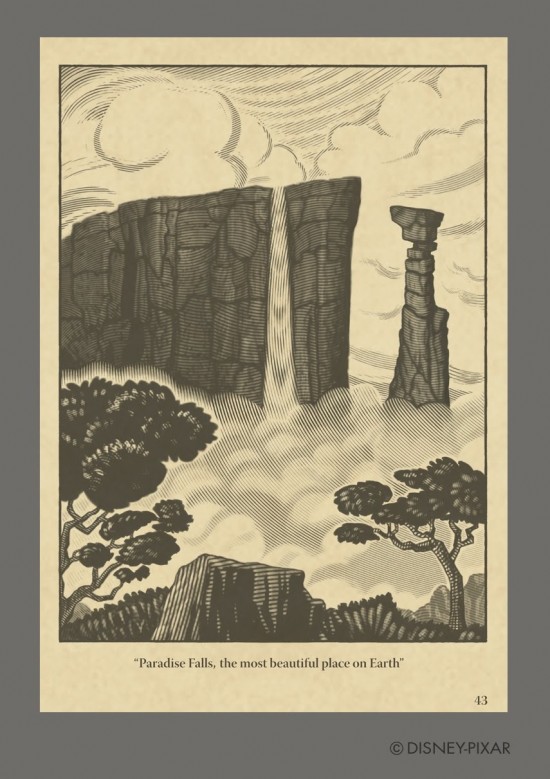 Pixar artist Paul Conrad has posted a bunch of artwork he created for Up on his website.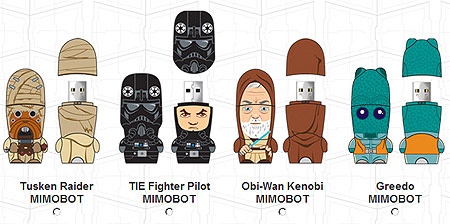 Help MIMOBOT complete their Star Wars series by choosing your favorite character: Tusken Raider, TIE Fighter Pilot, Obi-Wan Kenobi or Greedo? [official star wars blog]
Due to an overwhelming response, Derrick Comedy's Mystery Team has been extended at the Harkins Valley Art through this weekend, ending on 11/24. DERRICK members will be at each and every evening showing between now and the movie closes to do intros, Q&As, and show a never-before-seen DERRICK video.
Ropes has a look at the poster art for The Loss of a Teardrop Diamond which stars Bryce Dallas Howard.
The last episode of Heroes saw viewership hit an all-time low for the series, with only 5.1 million viewers. That's a lower number than the same night's episode of Trauma, a show that has already been canceled. [tvovermind]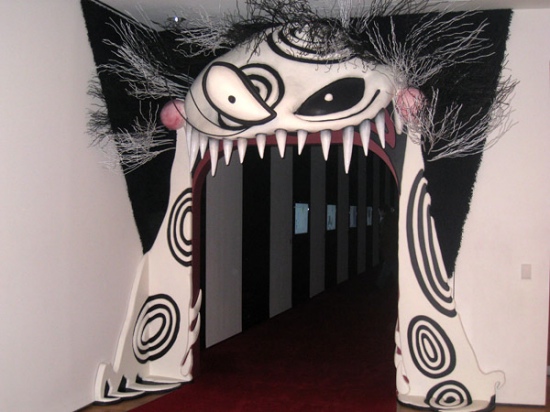 MTV has a full image gallery from the Tim Burton Museum of Modern Art exhibition.Paste Magazine lists the 25 best performances from this decade.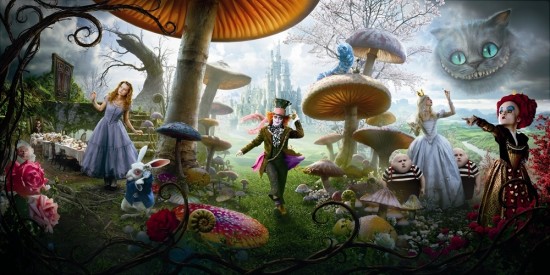 Walt Disney Pictures has sent us a digital file of the three banner Alice in Wonderland Triptych, showcasing many of the key characters in the film – from the Mad Hatter and Alice, to the Caterpillar and Cheshire Cat, without the logos.
Grey's Anatomy star Eric Dane has joined Burlesque, Screen Gems' musical drama which stars Christina Aguilera and Cher. [thr]ComingSoon has a photo of Aguilera on set:
[No photo]
HBO has given an eighth season renewal to Real Time With Bill Maher. [variety]
Kenneth Branagh has promised Stan Lee a cameo role in Thor. [mtv]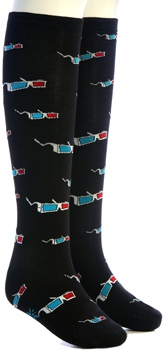 I disagree with Katzenberg... everything doesn't need to be in 3d. For example... Knee-high socks... in 3D.
ScriptShadow reviewed George Lucas in Love filmmaker Joe Nussbaum's screenplay for Brad Cutter Ruined My Life Again: "I can't say enough good things about this script. If you love reliving and/or making fun of high school, you'll probably love Brad Cutter Ruined My Life Again."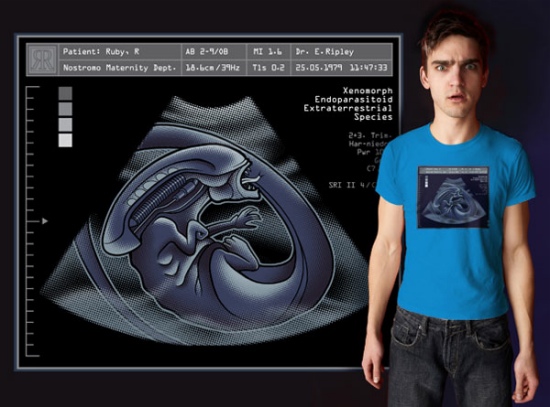 Ruby Red Design's "Who's the Daddy?" Alien maternity t-shirt features a sonogram image of an embryonic H.R. Giger creature growing inside your body.Werner Herzog talks to Rotten Tomatoes about his five favorite movies.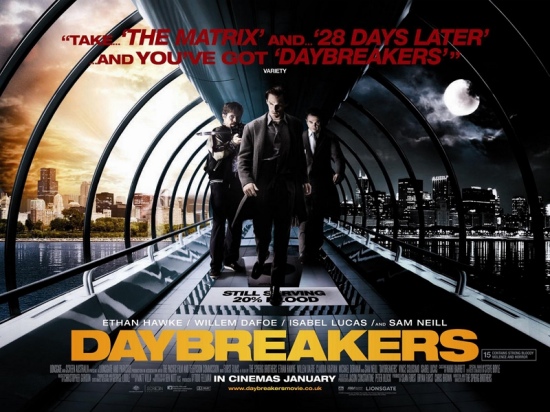 Empire Magazine has a look at the UK quad poster for Daybreakers.Brittany Murphy will star in Mathew Parkhill's The Caller alongside Stephen Moyer and Luis Guzman.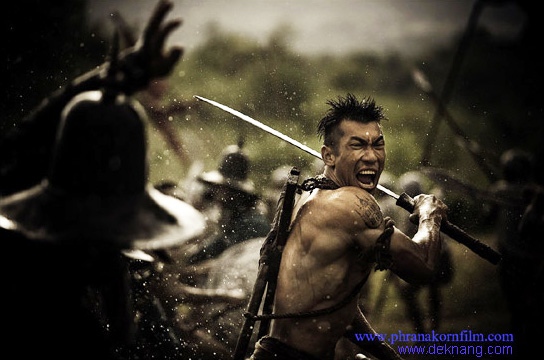 Twitch has a few badass looking photos from an upcoming Thai film called Bang Rajan 2.FilmDrunk has a script review of the new MGM Red Dawn remake: "Generally speaking, the story isn't bad, but the dialog is a cliché-ridden mess, and a lot of the action sequences are only half written or fuzzy from a physics standpoint.  It's hard to imagine how they'd shoot a lot of them unless they use that "cause-blur-effect" style shaky-cam editing, but considering the director did stunts on Bourne and was the second-unit director on Quantum of Solace, that's probably exactly what they'll do."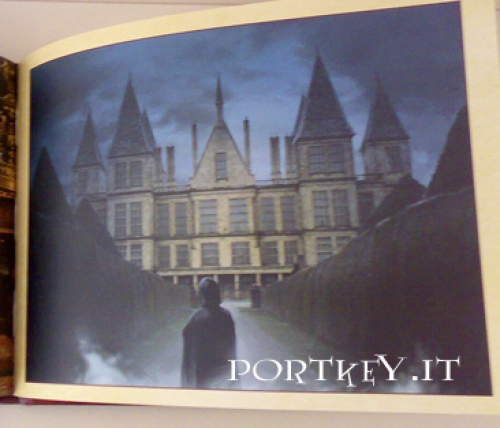 The first concept art for Harry Potter and the Deathly Hallows has surfaced in the companion book to the Chamber of Secrets: Ultimate Collectors Edition. [hpana]
The New York Times has a scene from Fantastic Mr. Fox with commentary from Wes Anderson.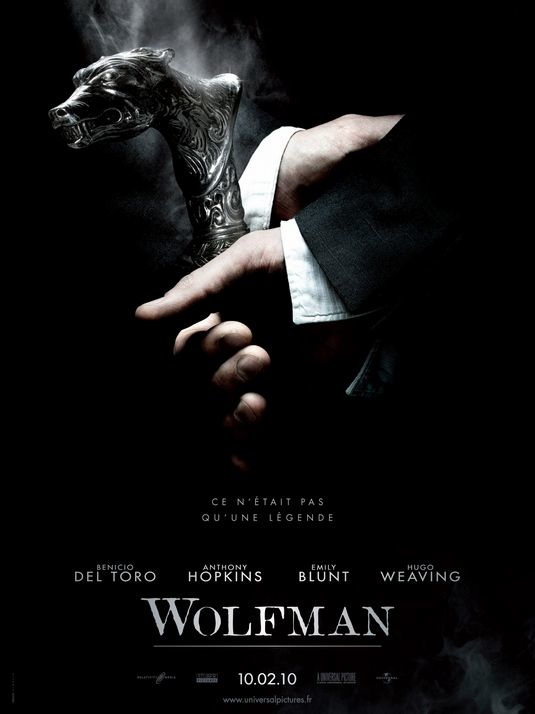 IMPA has a French poster for The Wolfman.io9 takes a look at why a Beastie Boys song was included in JJ Abrams' Star Trek.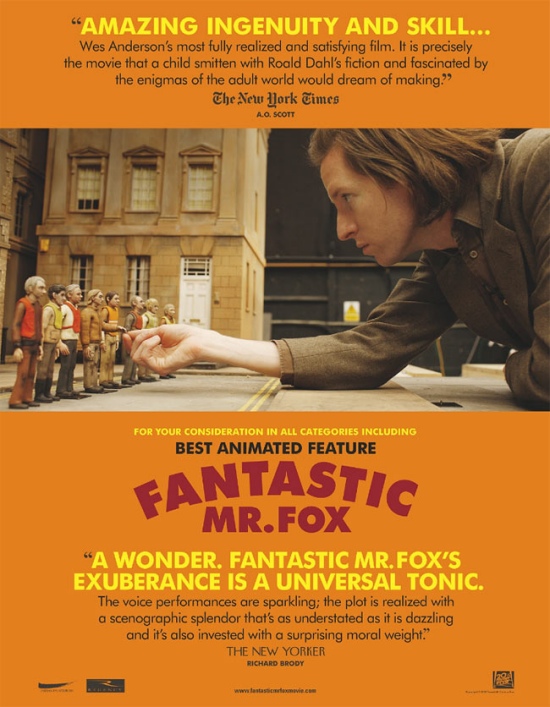 I like Fox's For Your Consideration Ad for Fantastic Mr. Fox. [awardsdaily]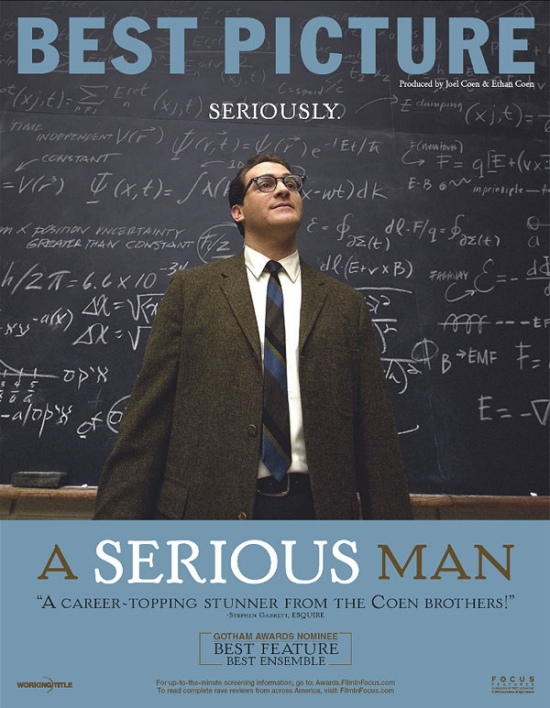 And here is a nice For Your Consideration Ad for the Coen Brothers' A Serious Man.
Researchers for a new book called Bitten by Twilight: Youth Culture, Media, and the Vampire Franchiseclaim were surprised that " teens were responding favorably to" "the obvious abstinence message in the book." ... "Many of the young women that we interviewed had felt pressure to perform sexually by their peers, but now they have a desire to find their own 'Edward,' who will be interested in them for nonsexual reasons." [cinematical]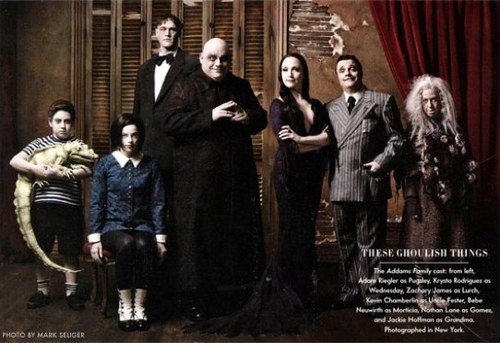 Check out the first picture of the Chicago cast of The Addams Family, including Nathan Lane as Gomez and Bebe Neuwirth as Morticia.  [io9]
Alejandro Amenábar's Agora has finally been picked up for domestic distribution by Newmarket Films (Death of a President, Passion of the Christ). [firstshowing]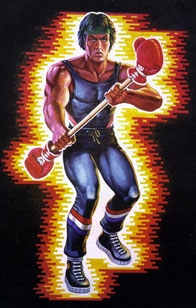 Didya know: Rocky Balboa was very breifly a GI Joe character? [superpunch]
The Envelope has an article on how Zombieland's second-unit director and stunt staff pulled off a meticulously crafted stunt seen only seconds in the film.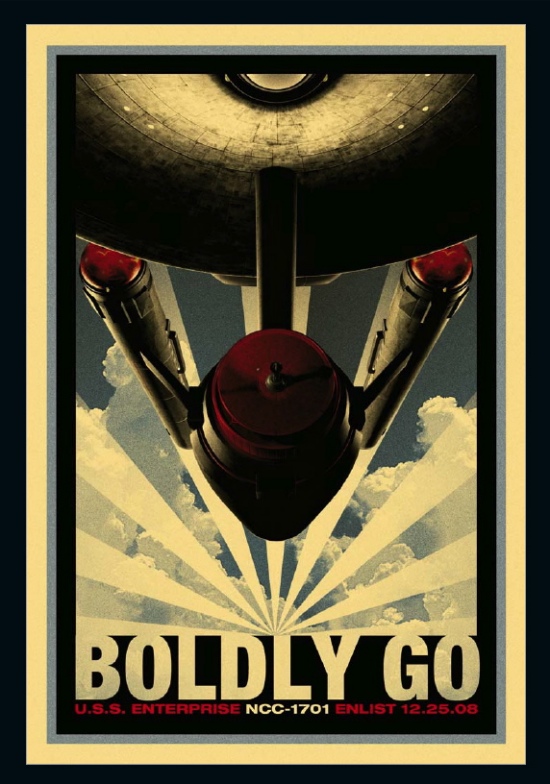 FilmSchoolRejects has a few new photos from The Art of Star Trek book, including this cool unused poster image above.
You can now listen to Carter Burwell's score for Where The Wild Things Are on Warner Bros' For your Consideration Website. [playlist]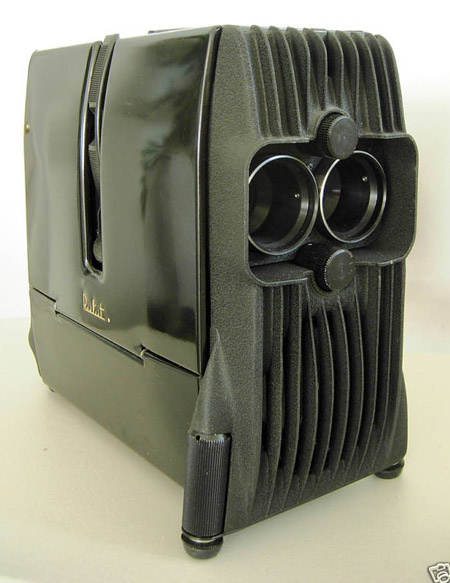 This 1950's stereo 3D projector has an uncanny resemblance to Darth Vader. [star wars blog]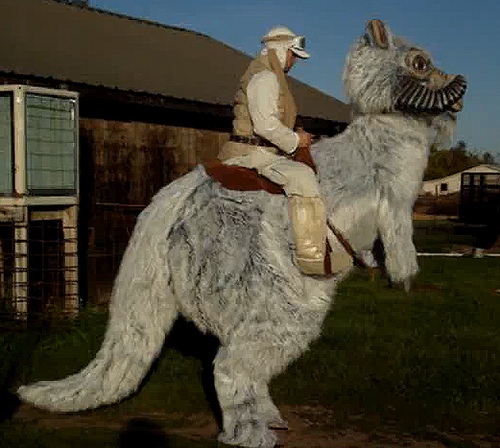 If you havent seen it already, check out this guy's homemade Tauntaun costume. Video below: